Nevertheless, real estate agents have been in high demand given the current climate. With so many agents selling & representing properties, it's challenging to remain top-of-mind to buyers & sellers alike. Ultimately, real estate is marketing. It's about marketing & selling properties within the parameters of the buyer & seller relationship.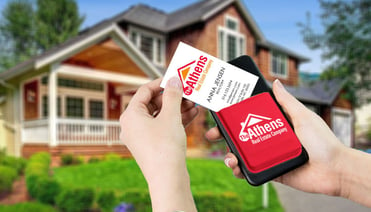 Beyond listing & showing properties, it's important to show off your services as a realtor and an agency as a collective. Promotional products help real estate professionals stand out from the growing competition in the marketplace.
Why? Promo products can be used in a multitude of scenarios for the industry. From low-cost products promoting your name to "welcome home" gifts, leaving a positive impression on clients and prospective homebuyers is key, especially in an industry that's so referral-driven.
But what promotional items make sense for each occasion? Let's take a look.
Brand Recognition:
Building your brand is one of the most important things you can do. Beyond the agency, your personal brand holds weight. When your clients are debating buying or selling a home, you want your name to become synonymous with the transaction. Products such as promo pens, magnets, notebooks, calendars and other low-cost items are great for giveaways.
Beyond client giveaways, it's important to dress to impress. Getting custom corporate apparel such as polos & jackets is a great way to show off your agency as a unified front. It gives buyers the confidence that they're dealing with a reputable broker.
For Homeowners:
In retail, providing a gift with purchase is a popular way to build loyalty to ensure repeat business. A house is just about the biggest item money can buy so real estate should be no exception to gift with purchase. Consider providing clients with housewarming gifts to add a personal touch. Items such as cutting boards, knife sets and grill tools are great pieces to welcome someone to their new home with.
Now, if you're selling a home, consider a food gift or a custom picture frame with an image of their home to say "thanks" for trusting you with their listing. While it may seem like a small gesture, it goes a long way in building loyalty. It's not often someone buys or sells a home, make sure you're a part of their memories.
The end game is establishing yourself as a trusted & talented agent working for a reputable agency. The use of promotional products in real estate is (incoming pun), real. From creating a personal brand to showing your agency as a trusted team, it's important to stand above the fierce competition that the industry is experiencing.
How are you planning to use promo to your advantage?