So, you've decided to treat promotional products with the same level of attention and care as you do your other marketing channels. You've thought through how the products you purchase and distribute align with your brand, your initiatives, and your audience. You connect it to your big picture planning through a marketing calendar and just like that, you have a promotional products plan in the works. Well done!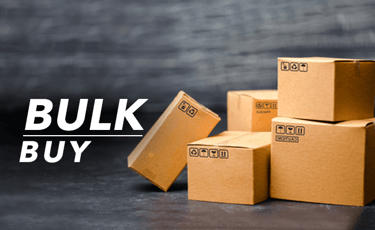 So, what's next? You treat the purchasing of promo like you would any other form of advertising. You look to make sure that you're buying smarter. How do you buy promo "smarter" compared to how you've been buying in the past? It simply comes down to thinking strategically about promotional products. There are 4 keys to buying smarter:
Bulk Buy Where You Can

Source Factory Direct Where You Can

Manage Inventory Proactively

Work With a Partner Who Understands These Steps & Can Save You Time & Money
Let's explore each of these keys in greater detail over the next series of blog posts. This post will focus on highlighting the benefits of buying promo in bulk.
Buying Promo in Bulk
The first step is to look across your organization and see who is buying branded merchandise. It's not just event marketers or brand/marcomm teams. It's your Business Development, Human Resources, Partner Marketing, Channel Marketing, Field Sales, Admins/Office Managers teams making promo purchases. Whether they're buying 100 pens for an upcoming tradeshow or 1,000 client gifts, you'll want consistency and processes among promo buys to realize efficiencies. In many organizations, professionals across these diverse job functions buy and/or utilize promotional marketing materials. Before you can consolidate spend, you need to understand who is using it, what they are using, and why are they using it. Finding synergies across branding and initiatives allows you to combine buys to build volume that can result in significant cost savings.
Of course, each user of promo doesn't need the same item at the same time, so this requires more advanced planning. Creating a cross-functional working group of representatives from each user group can be an effective way of navigating the differing needs and timelines that can challenge the goals of bulk buying. If you're able to find those opportunities to combine needs into larger buys, you will find savings whether your partner sources from their domestic supply base or goes factory direct in countries like China, Peru or Vietnam.
Beyond the obvious tangible cost-savings that buying in bulk provides, given the current state of the global supply chain, it also affords the opportunity to secure inventory for future needs. With lengthy delays on shipping and product availability, securing product in bulk eliminates the need for frequent reorders and potential stock shortages. This likely makes sense for more core items such as drinkware, pens, apparel and so on. By planning these buys across your organization and looking beyond the immediate need, you're able to more effectively reduce costs and navigate the supply chain.