Over the past few years, businesses have gone through several changes in response to COVID. One of the most notable and widespread change is the shift to remote working — a decision that certainly has both benefits and challenges. Requiring employees to do their jobs from the safety of their home is affective in keeping them safe and healthy, but it also means employees adjusting their habits and space. What does this mean for productivity?
Working from your couch, bedroom or even a home office can cause lots of interruptions and lacks the motivation and collaborative environment of an office space. To keep business running smoothly, employers need to find ways to encourage their team to stay focused and work effectively. In fact, when remote work is done well, it can even increase productivity.
The right promotional products can not only strengthen your branding for work-from-home employees, but they're also helpful for establishing productive work habits. These 5 essential promo products for working at home will help your clients and employees stay productive and connected.
1. Power Pad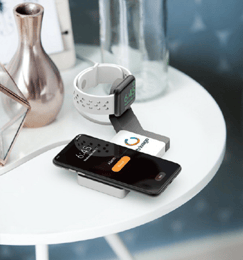 Ideal for your desk or bedside table, Power Pad is a combination wireless charging pad & Apple Watch® charging dock. A tree is planted for every order placed!
2. Blue Light Glasses
Blue light blocking glasses help relieve the pressure and eye stress that comes from staring at a monitor all day.
3. Keyboard Wrist Rest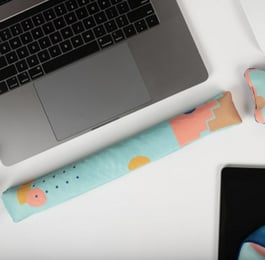 Beanbag for your wrists! The top surface is a satin smooth microfiber covered in your full-color sublimated imprint, while the plush bottom is great for swiping away the streaks and smudges on your screens.
4. Mouse Pad Wrist Rest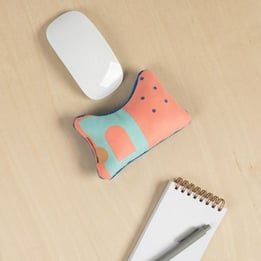 Take a load off with this beanbag for your wrist! The top is a satin smooth microfiber with your full-color sublimation imprint, and the bottom is a plush microfiber that's handy to swipe the streaks and smudges off your screen!
5. Custom Word Art Coaster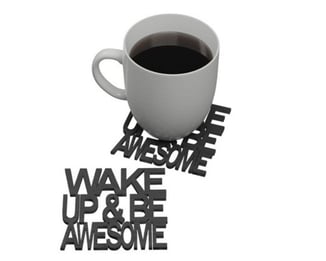 Take your favorite phrase and make it into a coaster! Perfect for that hot cup of coffee or tea. Your custom phrase will be formatted in a square, balanced within the square. Available in red, green, blue, brown & purple, yellow & orange.
Contact us today to make working from home, work for you.