December 31st can be a profitable night so now is the perfect time to start exploring New Year's Eve promotions for bars and restaurants to help prepare for the party of the year. Whether you want to add a few exciting details to a laid-back event or throw an extravagant party, planning is going to play a very important role.
Before you start looking for NYE marketing ideas, there are two things that go well with most celebrations- party décor and champagne. Make sure you're stocked up so you can capture the true celebratory feeling of the big night. Offering a free glass to toast with at midnight may encourage guests to stay longer to watch the ball drop and providing noisemakers and party hats will keep the atmosphere fun and light.
Follow these tips to set up your marketing campaign up for success and have your guests ringing in the new year at your bar or restaurant!
Start planning early
First steps to planning any successful event is to plan well in advance, so that you can get the word out and drive-up interest in your event. Planning ahead also gives you time to make sure you have everything you need- from venue space to entertainment and signage to tables and décor. Partner with other local businesses if possible, so that both of your audiences will see the value of attending each other's events.
Create a theme
Having a themed party is a perfect way to bring in customers. It also gives you an opportunity to create buzz around your event, which can lead to more people showing up. Themes are especially good if it's been a while since your last event or if you are doing something new this year. Consider how the theme will tie into the decorations, entertainment, and menu of the party. An example would be creating a New Year's Eve event based on the 1920's Speakeasy era and incorporating elements like blackjack, live music, or a DJ spinning music all night long.
Hold a contest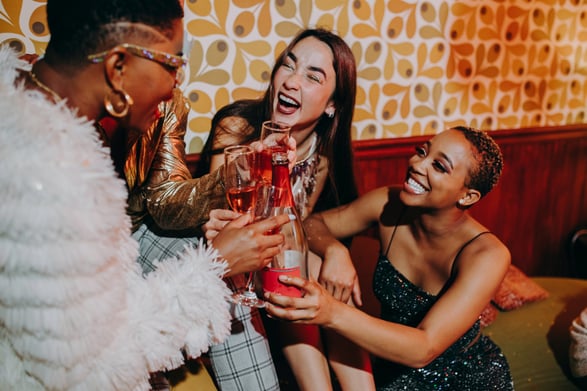 If you're looking for an easy way to get customers in the door, consider hosting a contest. Hold a NYE trivia night or offer free appetizers and drinks during happy hour. You can even give away prizes such as gift cards or bar and restaurant merch swag.
promote your event on social media
Social media is a great way to promote your event. It is an easy, effective way for you to reach customers and build your brand. We recommend starting out on whichever platform your target audience is most active on. For instance, Instagram or TikTok is a great option for businesses with visual appeal.
Psst: Create an NYE hashtag to help customers easily find your event, and encourage them to post pictures to their social networks using your hashtag for extra exposure!
Promote your event everywhere you can, especially if other events happen in the same time slot as yours. If someone searches "New Year's Eve events near me" on Google or Twitter right now, they'll see dozens of ads from different businesses trying to get their attention. Yours can get lost in the mix if it isn't promoted properly beforehand! Make sure that everyone who follows your restaurant or bar on social media knows about your New Year's Eve party before anyone else does!
Promoting and planning your event takes time, so don't wait until the last minute! While it's important to plan your big campaign, don't forget that you'll need time to plan the little details. Such as headcount on beverage and food, staffing, custom promotional products, and marketing materials.
Give away nye promo products
Swag bags are great for thanking guests for coming out to your event and great for promoting your brand! Custom event swag can be handed out after the event or at the door as guests arrive. If you plan on having a lot of guests, it may make sense to have staff handing them out throughout the event. You want each person receiving your custom NYE swag bag to feel like they're receiving the full VIP treatment. Helpful swag bag ideas include: Festive wearables, custom sunglasses, themed headbands, snacks, and gift cards to name a few!
Check out our NYE catalog below for promo swag ideas,

or reach out to us to get a project started!
Conclusion
Promoting your event can be overwhelming, but it's worth it! The secret to hosting a successful New Year's Eve event for your restaurant or bar is to first focus on the goals you want to achieve. Then pick the action items that will help you accomplish those goals. We hope this article helped give some inspiration for planning your next event. Cheers to 2023!
more ways to connect with stran
👐 Like these updates and insights? Subscribe to our blog.
⭐ Grab a free sample pack, and see we're making custom merch better.