Tailgate season is officially here!
With Fenway, Gillette Stadium, and Boston College in our backyard, it's safe to say that the Strän team are experts at planning and throwing a successful tailgate party. In this post, we share the best advice for planning a company tailgate, tips for building awareness and engagement, and the tailgate essentials that are sure to make 2022 your best season yet!
You can hear the spontaneous cheers and chants from the crowds, savory smells from portable grills drift in the air… plenty of cold beer flowing from taps and bottles. Now that tailgating season is here and Americans all throughout the U.S. are enjoying the cooler weather and quality time spent with friends, Americans are spending much more time outdoors. And if you've ever been to a tailgate party, you know how much fun people have in parking lots of stadiums and arenas. Game days are already loaded with energy and excitement for rival football teams as they prepare to battle for the day's victory. Tailgate parties can be a great opportunity for companies to target a large fanbase and channel some of that fan energy toward their own services and products and get valuable exposure for their company's identity and brand.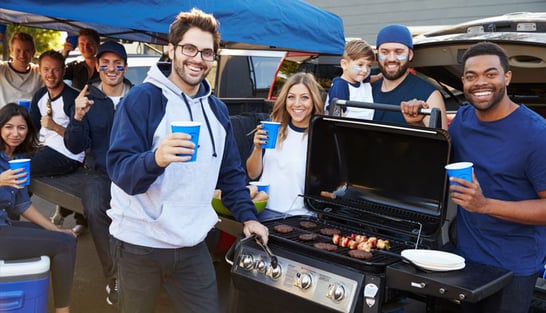 Tailgating Season Promotional Products
Tailgate marketing is a strategic way to spread the word about your products, attract new customers and gain exposure for your brand. And with tailgate marketing, what better ways are there to achieve that than with promo swag? Tailgating events are perfect for creative outdoor products, but why tailgating events? What makes these events so effective for brand awareness? Let's explore some of these factors.
Arenas and stadiums can attract a large number of people with different interests, backgrounds, and beliefs. You can meet many different people at these events and significantly increase your brand's exposure in the market. The more people learn about your brand, the better off your business will be and at popular events like these, there is a chance quite a few of people will receive or be exposed to your tailgate products.
Opportunities for social influence, as most take videos or photos and share the event with the world on different social media platforms. This grants the opportunity for your brand to gain more geographical exposure, as well as people who weren't at the event, will be exposed to your brand. Also, people who hold onto your tailgate giveaways, their family and friends are likely to use them as well, creating more exposure to your business.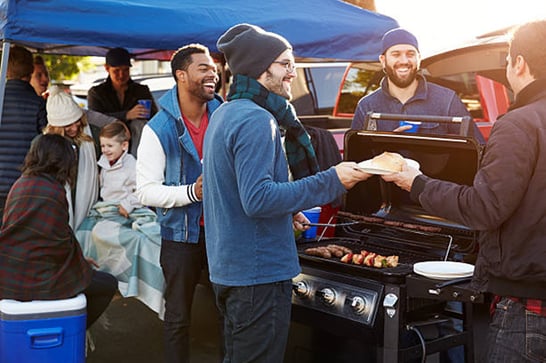 Given the chances that tailgate events can bring, these are some of our most creative tailgate products that will catch people's eyes and will be sure to get them talking about your brand.
1.
Coolers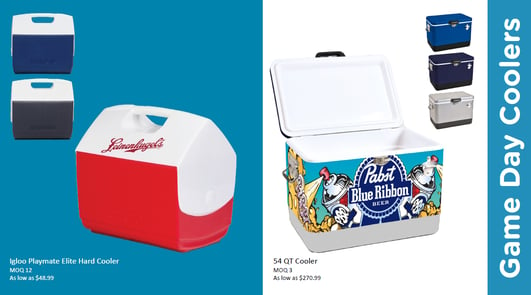 At tailgate events people are likely to drink, whether it's an ice-cold beer or soda, it's a good idea to have a cooler on hand. Spending time under the sun can make you dehydrated, so having a cold placeholder that freezes your drinks can be ideal.
Red Hard Cooler Details: Branded Hard Cooler Details:
Igloo Playmate Elite Hard Cooler 54 QT Cooler
Colors: red, blue or black Colors: Blue, Black or Silver
As low as $48.99 As low as $270.99
---
2.
Drinkware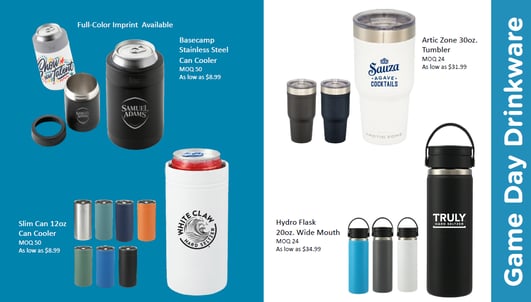 Because people love cold drinks on a warm day or a warm drink on a cool fall day, handing out tumblers or thermoses can be a good idea. Consumers can drink beer, soda or hot chocolate in a special drink holder that keeps their beverages cold or hot.
Can cooler Details: Tumbler and hydroflask Details:
Basecamp Stainless Steel Can Cooler Artic Zone 30 oz. Tumblr or Hydro Flask 20 oz.
or Slim Can 12oz Can Cooler Colors: Blue, Grey, White or Black
Colors: Full color imprint available As low as $31.99- $34.99
As low as $48.99
---
3. Accessories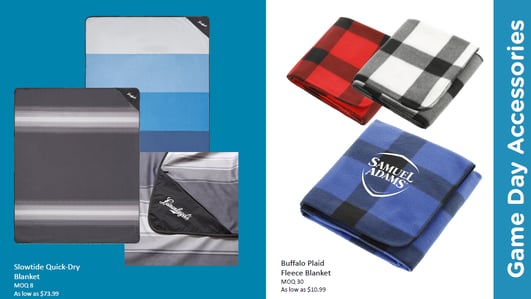 As football season starts, it can get chilly outside. When this happens, it can be nice to have a blanket around. When people are cold and forget to bring their blankets, they will be grateful to receive it and with your logo on it, it is sure to stand out from the crowd.
blanket Details: Fleece Blanket Details:
Slowtide Quick-dry Blanket Buffalo Plaid Fleece Blanket
Colors: stripe colors vary Colors: Red, Blue, White
As low as $73.99 As low as $10.99
---
4. Seating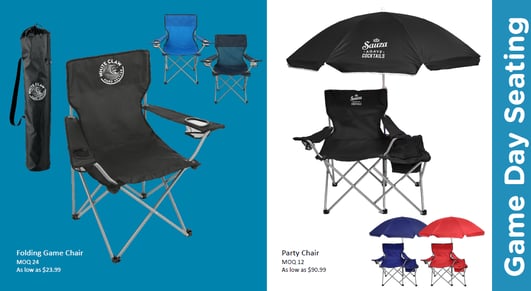 When celebrating in parking lots outside of stadiums and partying at the edge of a car, you'll want to be able to sit down from time to time and folding chairs are the perfect item to have your logo printed on.
Game Chair Details: party chair:
Folding Game Chair Party Chair with Umbrella
Colors: Black, Blue Colors: Black, Blue and Red
As low as $23.99 As low as $90.99
Stran can help your company ensure high-quality products decorated with your company logo. From high-end grill accessories and grills that will get repeated use over multiple seasons to affordable drinkware and wearables that will be used year-round, your branded items will be as memorable as the tailgate event itself! Check out our Tailgating Playbook for all tailgating ideas!