Your team members are vital to your business, and showing appreciation for them is crucial to your business thriving! Without capable workers, the day-to-day operations of your business wouldn't run. Your brand would lose its heart and soul. There's no natural way to accurately describe your team's importance- showing appreciation for all they do is critical.
While that appreciation shouldn't be limited to the holidays, the season of giving is a perfect time to say thank you to your employees for everything they do in meaningful, tangible ways.
This holiday season, consider going beyond "traditional" employee gifts with creative holiday gift ideas, including custom thank you notes, that allow your gratitude to shine through!
Not sure where to get started? Let's cover a few ideas.
Creative ways to say thank you to employees
The Gift of Quality Time
Nowadays, striking a healthy work-life balance is more important than ever to the average American worker, and rightfully so. A good work-life balance has many benefits, including:
Improved mental health

Reduced chronic pain

Reduced hypertension

Fewer digestive issues
You can offer the gift of quality time to your employees by encouraging that healthy balance in more ways than one. Consider offering your team a few extra days off each year. Give them a holiday compensation package that can make their season merrier than ever for their families.
Consider Flexible Scheduling
Additionally, find ways to support your workers through hybrid schedules or those returning to the office after working from home through the pandemic. You also might want to consider which employees can/should continue working remotely. In many cases, remote workers are beneficial and can be more productive than in-office employees. If remote workers are doing great things for your business from home, give them your support this season. Ensure they have everything they need to remain comfortable in that environment, including opportunities to expand their professional network.
Say it with money
Providing bonuses is a great way to show appreciation and help your workers with any effected by perpetual economic pressures like inflation.. But don't stop at the holidays regarding bonuses, raises, or even financial education opportunities. Employee recognition and reward should happen year-round and become something your company is known for.
The Gift of Giving Back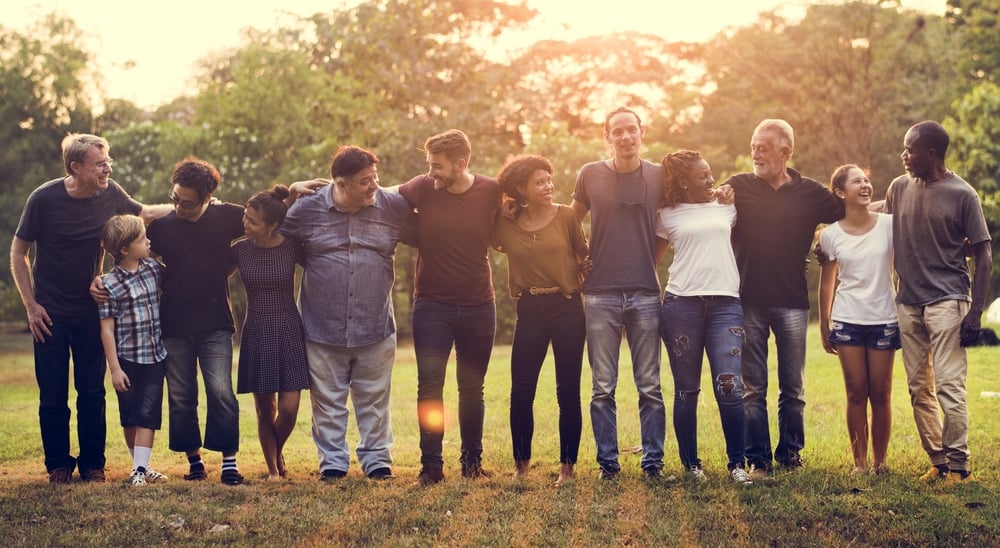 If you want to say thank you to your employees while bringing everyone closer together for the greater good, consider volunteering this season. Host a holiday-themed volunteer session that allows everyone to participate. Your team will feel good about themselves as they give back to the community, and you can all have a lot of fun together.
Volunteering can also be good for your brand, as you become known in the community as a company that gives back. Consider polling your employees to ask which charities or organizations they would be most interested in helping (you can pull one from a hat each year!), and don't forget to make the event fun and festive for everyone with music, food, decorations, and even small gifts to take home.
Alternatively, you can encourage employee participation through equitable giving. If you don't want to volunteer in person, your team can select a charity to donate to each year on behalf of your business. It's still a great way to give something back and bring people together in the season's spirit.
Throw a Holiday Office Party or Happy Hour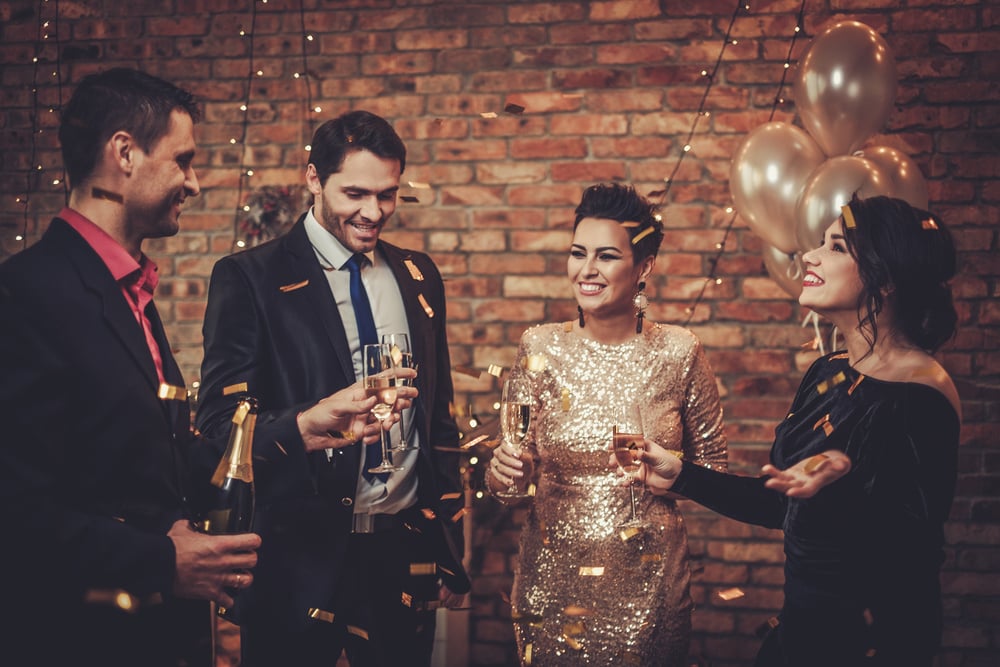 Who doesn't love a holiday party? It's a fantastic way to relax and have fun with your team while showing appreciation for another year of hard work. By hosting your get-together during office hours, you're also giving them a well-deserved break to celebrate the season and each other.
These get-togethers are great for team bonding, but they're more critical when showing your employees they deserve to relax and have fun. Consider hosting a holiday party before giving your workers an extended break or a few extra days off; they'll appreciate it more than you know!
More holiday party ideas, this way!
custom Thank You Gifts
The gifts you give your team don't have to be expensive or extravagant. Most people want to be recognized for a job well done. Showing recognition and gratitude can go a long way in boosting your company culture and letting your workers know how much they matter.
If you want to provide something more tangible to your team, consider small-but-meaningful gifts with your company logo. Holiday swag bags can be personalized for each employee and include practical items that will remind your workers how proud you are to have them on your team. Take it one step further by stocking a custom store with thank you swag options. This will enable your team to pick the thank you gift that resonates most with them!
Finally, don't forget the power of a heartfelt, handwritten thank you note. Doing something personal takes a holistic approach to gift-giving and will go a long way with employees who might otherwise feel "unseen."
Not sure how to write a thank you card? Check out these pointers.
Personalized holiday gifts can go beyond another winter pullover or custom tee --- check out some of our favorite ways to say thank you to employees!
Swag bag ideas for employees
Custom Tech Gifts
Noise-canceling headphones, custom Bluetooth speakers, and accessories like portable chargers and cables are thoughtful ways to thoughtful ways to recognize your team for a job well done. If you have the budget, consider splurging on the premium versions of larger items - perhaps Bose over-ear headphones for your hybrid employees, Airpod Pros to help filter out distracting noises for your in-office crew, or JLB waterproof Bluetooth speakers for your road warriors. Smaller gifts, like charging cables, clip-on speakers, and travel earbuds, all slip easily into holiday swag bags for employees!
Perfect for: Custom Tech Gift, Employee Thank You Gift, Reusable Promo Products, Thank You Swag, Winter Gift, Holiday Gift, Swag Bag Ideas, Employee Holiday Gift, Remote Team Swag, Hybrid Swag, Back to the Office, In-Person Gifts, Employee Onboarding, Employee Holiday Gift, Tech Gifts, Corporate Gifting
⭐ Even more ways to incorporate tech gifts!
Cozy WFH Gifts
Soft blankets and glowing candles put us in a cozy state of mind, and we're certain that your employees will feel the same way! Encourage self-care and help your team avoid burnout with thoughtful home gifts like soft and fluffy throw blankets, comfy custom socks, an essential oil diffuser, or spa accessories like a plush robe and sleep mask.
Perfect for: Cozy Swag, Winter Promo, Thank You Gift, Client Appreciation Gift, Giveaway Swag, Swag Bag, Premium Promo, Sustainable Swag, Home Swag, Customer Appreciation Gift, High Quality Gifts, VIP Gift, Employee Gift, Corporate Gifting
Snacks and Sweet Treats
Food gifts might be the simplest way to show your employees that you appreciate them! Keep it easy by sending a grocery gift card near the holidays, or take it to the next level by sending the party to them with a cookie decorating kit, smore's party in-a-box, or a chic cocktail set.

Perfect for: Remote Employee Gifts, Winter Gifts, Christmas Swag, Food Gift, Virtual Gifts, Happy Hour Ideas, Corporate Gifting, Gift Ideas, Trending Gift Ideas, Gift Ideas, Holiday Gift, Virtual Gifts, Happy Hour Ideas, Swag Bag, Giveaways, Promo Product Mailing, Custom Thank You Gift
⭐ Got a long gift list? Let Stran handle fulfillment and distribution!
BONUS: How to Write a Thank You Card
Whether you're giving your employees a handwritten card or want to include a simple and sweet note of thanks on a more significant gift, there are a few things to keep in mind that make your card more personal and meaningful. Use these tips to write a perfect card that expresses your gratitude:
Use different words of appreciation

Be specific with examples of gratitude

Touch on any particular points that make that employee stand out

Thank them for a great year
By showing warmth and personality in whatever you write, your employees will appreciate that you took the time to create something just for them.
The holiday season is a great excuse to show extra appreciation, but it should remind you how important it is to recognize your workers year-round. Compliment them on their hard work, give them credit for their accomplishments, and give them a sense of ownership and responsibility for everything they've tackled on their own or as part of a team.
As you can see, there's no shortage of ways to say thank you to your team this holiday season. The best thing you can do is to keep things personal. By showing each individual how much you care, no matter how you do it, they'll be able to show your business the same gratitude through their continued efforts.
more ideas for how to say thank you to employees
👐 Subscribe to our blog to get the first look at our holiday swag catalog + future holiday drops!
⭐ Grab a free sample pack, and see how we're doing holiday swag differently.
🎧 Reach out to our friendly branding experts!
RELATED BLOG POSTS
The Ultimate Guide To Holiday Swag Planning 2022
Best Swag Ideas for In-Person Teams