It's official - Americans love receiving swag. The NY Post reports that over 50% of Americans look forward to receiving branded promotional products, and 83% use or wear the custom products they receive on a consistent basis (per a Vistaprint poll conducted in Fall 2022).
Here's the thing: the type of swag you give matters -- and so does the design. While products like pens, coffee mugs, and calendars are great evergreen swag options, the Vistaprint poll found that certain factors directly influence how recipients feel about the company giving the swag, and could affect the likelihood that they would recommend that brand to others. The biggest differentiators? Unique design, product quality, and sustainability.
Differentiators like these come into sharp focus as B2B + B2C companies start making their holiday swag plans. After all, the holidays give us the perfect opportunity to get creative, pull out all the stops, and focus on giving back to the clients that we work with every day!
⭐ Not sure you're ready for the holidays? Consult our promo planning checklist! ⭐
Whether your goal is to send a present that wows your client's entire staff, host a holiday party featuring swag bags or promo giveaways, or find new ways to show appreciation for your loyal customers, the Stran team has you covered.
Scroll through for a sneak peek of the best client gifts, and custom holiday mailers to come across our desks this season.
Psst! Subscribe to our blog for an exclusive peek at our 🎄2022 Holiday Swag Catalog.
Jump to a section: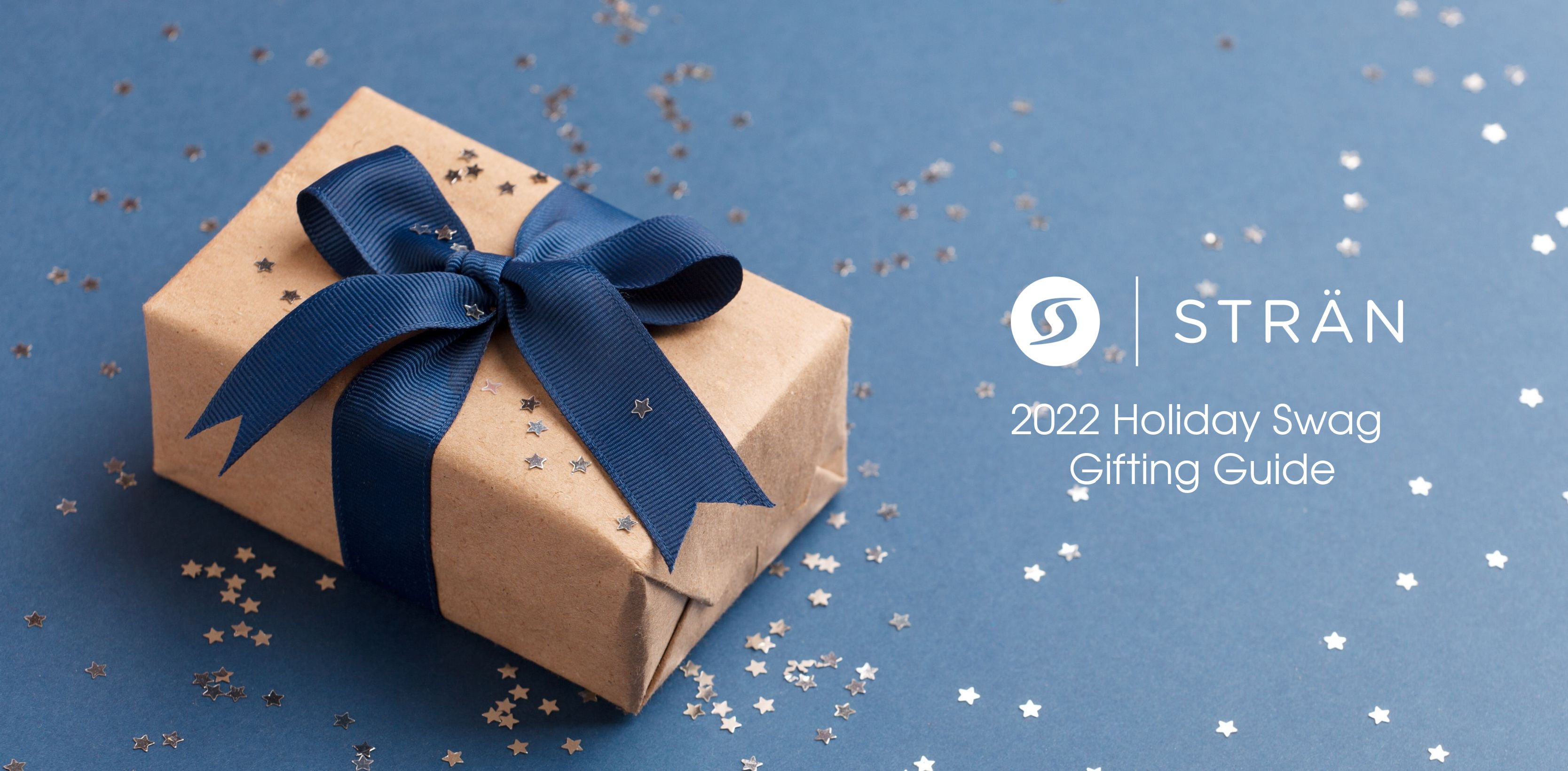 2022 HOLIDAY SWAG GIFTING GUIDE
🎉 party starters
From cookies and candy to hotchocolate and adult bevvies, food is a surefire way to bring people together, and these selections are a great way to get a party started! If you're thinking about sending a food, beverage, or otherwise perishable gift, start your planning early, and be sure to confirm shipping addresses so that your thoughtful gift doesn't arrive during an office closure or while your recipients are on vacation!
CUSTOM FOOD GIFTS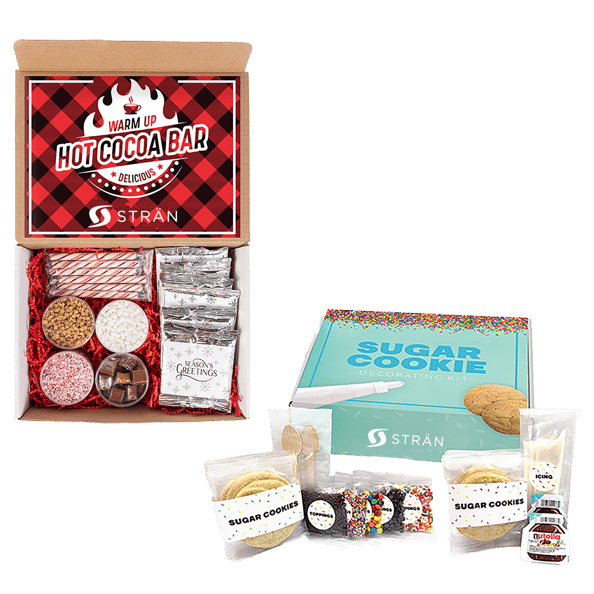 Why we love them: food and beverage kits - like these custom cookie and hot chocolate options - make it easy to get a party started! Customize either (or both!) with your logo, and you've got the complete party in-a-box. We love sending these kits together for virtual events. They're great conversation starters and include all of the ingredients for festive holiday fun!
More customization ideas:
- Include a custom mug with your logo + holiday design
- Send along a bottle of wine with a custom label, or coordinate a spirits delivery for an adult twist on typical hot chocolate!
- Add a custom holiday card for a personal touch.
Perfect for: Remote Employee Gifts, Winter Gifts, Christmas Swag, Food Gift, Virtual Gifts, Happy Hour Ideas, Corporate Gifting, Client Appreciation Gift, Gift Ideas
⭐ More holiday gift ideas, this way!
CUSTOM COCKTAILS
Why we love them: Cocktail and custom barware gifts are a stylish way to show your gratitude,
More customization ideas:
- Craft cocktail kits and individual mixers are the perfect finishing touch for cocktail-themed gifts. They're also small enough to slip into an event swag bag (or stocking!) and make an excellent holiday party favor.
- Did you know that you can customize wine bottles with your branding? Psst: wine ships separately from other gift components, and delivery is not available in all areas. Chat with a rep to determine if your gift can ship to a specific location.
- If you'll be gifting a custom barware kit in-person, consider adding a bottle of your recipient's favorite spirits! Whiskey pairs well with the example above, and if you slip in a W&P Old Fashioned Craft Cocktail Kit or two, you have a premium appreciation gift that will have your client thinking of you whenever they raise a glass!
Perfect for: Cocktail Party, Executive Gift, VIP Swag, Client Appreciation Gift, Premium Gifts, Holiday Swag, Food Swag, Virtual Event Ideas, Happy Hour Ideas, Corporate Gifting, Employee Appreciation, High Quality Gift
| | |
| --- | --- |
| CUSTOM snack board | CUSTOM CHOCOLATE GIFTS |
| | |
Why we love them: Feed a crowd or help supply the necessities to keep a party going with an endlessly-customizable selection of snacks, treats, meats, and cheeses. A premium charcuterie board or treats tray, customized with your logo, is an upscale way to show your appreciation and bring people together! A delivery like this gets attention, fast, and people will be talking about your brand as they gather around to sample an amazing selection of snacks and treats.
More customization ideas:
- Host a company happy hour for your clients! Send a custom charcuterie selection to each client with a bottle of bubbly, and schedule a virtual Open House for a relaxed take on a holiday party.
- Have a brick and mortar location? Consider hosting a holiday party and including an assortment of custom food options, like charcuterie boards, chocolate towers, and winter-themed cupcakes or treats with your logo!
- Pair a custom charcuterie board with a fruit basket or dessert to suit every client's palette.
- Nibbles and wine just go together. Ask us how to customize a bottle with your logo or holiday design for an upscale and personal touch!
- Don't forget to include a custom holiday card!
Perfect for: Premium Gift, Client Appreciation Gift, Customer Appreciation Gift, Food Gift, Trending Gift Ideas, Gift Ideas, Holiday Gift, Virtual Gifts, Happy Hour Ideas, Swag Bag, Giveaways, Promo Product Mailing, Custom Thank You Gift, Christmas Swag, Christmas Promo
⭐Got a long gift list? Let Stran handle fulfillment and distribution!
2022 HOLIDAY SWAG GIFTING GUIDE
🏡 FOR THE HOME
CUSTOM HOME DECOR
If you're thinking of creating some custom home gifts for your clients this season, you're not alone - products like soft blankets, candles, cutting boards, and even plants are popular items to gift around the holidays!
Why we love them: Soft blankets and holiday candles put us in a cozy state of mind, and we're certain that your recipients will feel the same way!
More customization ideas:
- Less is more! Minimalist designs and tone-on-tone or laser-engraved imprints are key to creating custom home decor gifts that your clients will want to use and display throughout the year.
- Build a custom Cozy pack: Start by customizing your favorite blanket. Add in a candle gift set, a pair of tumblers, and some soft socks. Complete the look with a custom Kraft mailer box, festive crinkle, and a customizable greeting card wishing your recipient the coziest holiday ever!
- Stocking a custom store with branded swag options is a great way to help clients select custom home swag items they'll really love.
Perfect for: Cozy Swag, Winter Promo, Thank You Gift, Client Appreciation Gift, Giveaway Swag, Swag Bag, Premium Promo, Sustainable Swag, Home Swag, Customer Appreciation Gift, High Quality Gifts, VIP Gift, Employee Gift, Corporate Gifting
2022 HOLIDAY SWAG GIFTING GUIDE
✈️ Travel Gifts
| | |
| --- | --- |
| phone stand and custom earbuds | Custom COFFEE mug and travel thermos |
| | |
Why we love them: The holiday season is travel season, and these on-the-go essentials ensure your customers are prepared for the open road (friendly skies? pleasant waters?) Customizable tech items like wireless earbuds and a premium phone stand help keep the good vibes going, no matter where your customers are headed. And for shorter trips - or a spin around the tree farm - a custom travel coffee mug or thermal tumbler will keep their hot chocolate at the ideal temperature!
More customization ideas:
- Needs gifts in a hurry? Pair a reusable mug with a hot cocoa kit, your local roaster's favorite beans, or some loose-leaf tea.
- Tech gifts are always in season! Custom wireless earbuds are small enough to slip into a swag bag, and make great stocking stuffers, too.
- Build a commuter swag pack with these items, a charging cable, and a snack or two. Our team can help you pull together finishing touches like a holiday custom mailer box with crinkle and a customizable greeting card, and then fulfill and distribute to everyone on your list.
Perfect for: Sustainable Swag, Reusable Swag, Custom Tech Gift, Client Appreciation Gift, Promo Product, Custom Mailer, Thank You Swag, Winter Gift, Holiday Gift, Custom Christmas Swag, Swag Bag, Employee Holiday Gift, Remote Team Swag, Hybrid Swag, Back to the Office, In-Person Gifts, Employee Onboarding, Employee Holiday Gift, Tech Gifts, Corporate Gifting
BONUS: HOLIDAY SWAG PACK INSPIRATION
Need a few ideas to round out a promo pack or swag bag, or looking for inspiration for creating the ultimate customer appreciation gift? We've got you! This curated pack is just one example of how holiday promo items can be mixed and matched to build a swag pack that will make your recipients' holidays brighter while keeping your brand top of mind! Oh, and if you like our exclusive winter wonderland design, ask us how our designers can help you create custom holiday designs for your swag!
⭐THE WINTER WONDERLAND PACK ⭐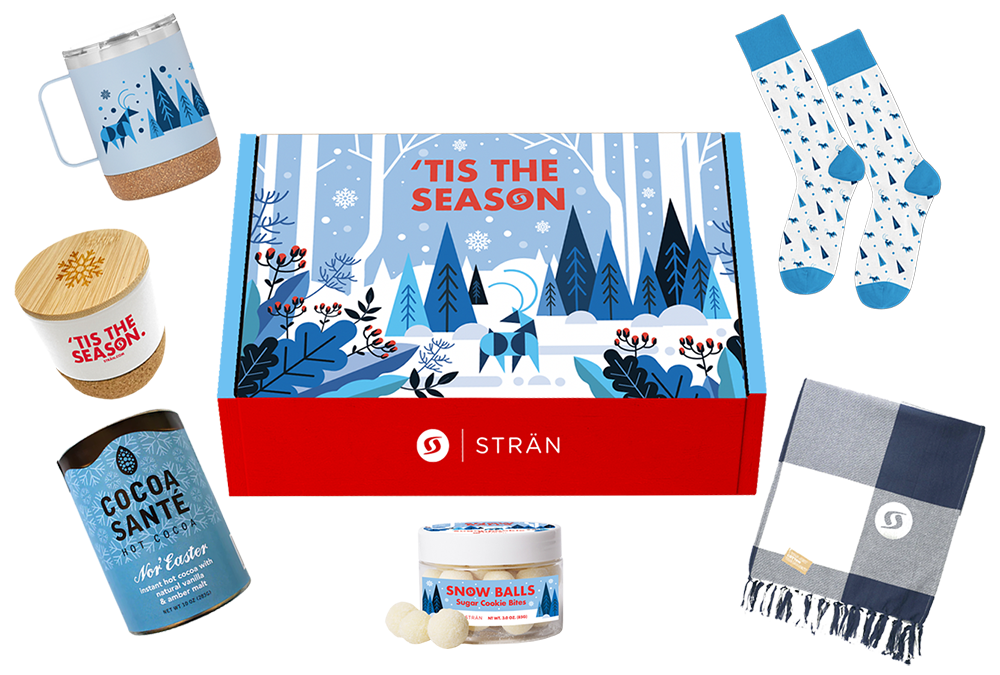 Why we love it: Start the season right with our cozy Winter Wonderland pack! Filled with soft and sweet holiday swag items, this fun swag assortment is a Stran exclusive.
Want to customize a pack like this? Give us a shout and ask for these items:
❄️ Custom socks from our friends at Sock Club
❄️ Candy bites with a custom label
❄️ Throw blanket with embroidered logo
❄️ Custom travel tumbler with a cork bottom
❄️ Small-batch hot chocolate
❄️ Holiday custom mailer box (inside and outside print)
❄️ Colorful protective crinkle
❄️ customizable greeting card or insert card
As always, you can swap in other items from our lookbook or catalog to make your ultimate holiday swag box.
LOOKING FOR MORE HOLIDAY SWAG IDEAS?
🎄 Subscribe to our blog to get the first look at our holiday swag catalog + future holiday drops!
⭐ Grab a free sample pack, and see how we're doing holiday swag differently.
🎧 Reach out to our friendly branding experts!
R
ELATED BLOG POSTS
The 2022 Guide To Holiday Swag Planning
Incorporating Custom Swag In Your Marketing Strategy
.