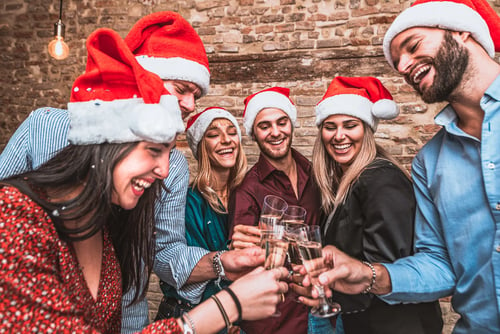 The holiday season is just around the corner and with all the hype that comes with this festive season, one less thing you need is to worry about planning the perfect company holiday party! But fear not; if you're looking for ways to spice up your company's holiday party, whether it may be in-person, remote or hybrid, you've come to the right place! A company holiday party is the perfect way to brighten up the bleak winter months, bring coworkers together, give employees a break from the stress and get everyone into the holiday spirit.
A holiday party is a solid tactic to show appreciation to coworkers and employees, the last thing you want is for the event to be boring. So, what should you do? How could you make it fun without breaking the bank? Rest assured, we have compiled a list of the best company holiday party ideas, activities, swag, and tips on how to throw an unforgettable holiday party!
In-person Holiday Party Events
The world is emerging from the pandemic. While we are all probably still accustomed to wear sweatpants to our Zoom meeting, we are finally nearing a post- pandemic society. And that means that holiday parties are in fully swing this season! Knowing how to plan a in-person event in a post-pandemic world can be tricky, but everything should run smoothly if you cover these base points.
From seating capacity, amenities and aesthetics, event planners have a lot more to take into consideration. Make sure you choose a venue that fits the needs of your company. It can be held inside a gorgeous hotel with beautiful architecture, a museum with stunning artwork, or held outdoors with gorgeous scenery. Communication is key to a successful event. So, remember to keep in constant contact with the team at the venue to stay informed and vice versa.
To ensure that your 2022 holiday party is extra special, you will need to come up with fun holiday office interactive activities! Like an ugly sweater costume contest! Reward your winners with a wine Tumblr set or a fuzzy throw blanket! Or send your employees on an office scavenger hunt! If you emphasize teamwork as part of your company culture, then a scavenger hunt is the perfect holiday party activity. Break out your employees into teams and give out clues to help them find hidden office holiday party favors such as custom wool socks or a hot chocolate bomb gift box. You can make one of the clues lead to the ultimate set of high-end gifts for the winning team. Create a memorable experience that will make everyone excited to work in person again.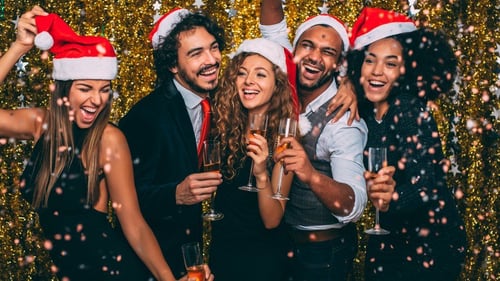 Hybrid Holiday Party Events
For hybrid employees, holiday events can provide opportunities to strengthen team connections, recognize employee achievements and are inclusive. Virtual happy hour can be a great event to gather teammates can gather to share drinks and chat. For in-person attendees, bring in a bartender or mix up some Christmas-themed cocktails. Meanwhile, reimburse remote guests' first rounds, or send kits with dry ingredients for holiday drinks. During the event, attendees can chat and play festive games via zoom and in-person.
Remote Holiday Party Events
Virtual holiday parities are perfect conducted over video conferencing platforms such as Zoom, Teams and Google Meet. Food is an important element of any gathering. The easiest way to provide food to remote employees is to reimburse them for a treat, meal or send credits for food delivery such as DoorDash or GrubHub and no virtual holiday party would be complete without a Secret Santa! Online gift exchanges are a great way to recapture the fun of spending holidays in an office. To hold a virtual office Secret Santa, you can pick names using a gift exchange generator, then send presents, and wait to open gifts together over Zoom. Teammates can also send each other virtual presents such as online gift cards or internet subscriptions. These virtual holiday events are some great ways to celebrate the season online with your remote teams.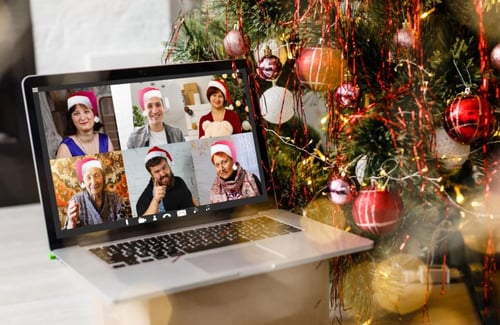 Holiday Swag Gift Boxes
Giving out holiday swag can add more cheer to the season! However, we understand that gift shopping isn't always easy. Besides finding the perfect gift, you have to wrap it, go to the post office and ship it. On top of that, when it comes to sending holiday swag for employees, you want to pick out something that is thoughtful, useful, and unique. Part of the reason you can count on clients, employees and teams loving swag gift boxes so much is that a gift box delivers on the promise of variety. After all, they say variety is the spice of life. To find the best holiday gift boxes for your business teams, clients, and employees, check out our latest Holiday LookBook.
While you and your coworkers may not be able to all gather in-person for a holiday party, you can throw a lively virtual party sure to entertain your staff. Your team worked hard all year and deserve a chance to connect, unwind and celebrate the season. By using the ideas on this list, you can throw a festive and memorable party that will delight, unite your employees, and make them feel appreciated.
⭐ Instant Holiday Gratification: Our 2022 Holiday LookBook
MORE holiday party inspiration for hybrid and remote teams
👐 Subscribe to our blog to get the first look at our holiday swag catalog + future holiday drops!
⭐ Grab a free sample pack, and see how we're doing holiday swag differently.
🎧 Reach out to our friendly branding experts!
RELATED BLOG POSTS
The Ultimate Guide To Holiday Swag Planning 2022
Best Swag Ideas for In-Person Teams
Best Swag ideas For Hybrid Teams