Whether you're buying groceries or buying promo swag for your company, we are all facing the same challenge: inflation. Rising over 8.2% over the prior 12 months, the inflation rate is outpacing experts' best estimates. Many experts predict inflation is not done yet and will remain elevated through the end of the year.
If you're wondering how to beat inflation before the holiday season, you're not alone. Many Americans are looking for answers on how to prepare for inflation. One part of the answer lies with locally and nationally crafted products (AKA Made in the USA) but it takes a little planning to do it right.
In this article, we're going to zero in on buying strategies for US-made corporate gifts and promo swag. With these strategies and last-minute gift ideas, you can beat inflation and see your cost basis decrease as your profits increase.
Why CHOOSE PROMO PRODUCTS MADE IN THE USA?
Along with choosing items with extensive inventory, investing in domestic-made products is a smart way to dodge those overseas shipping delays. Why? Well, while we can't promise shipping miracles, purchasing promo products made in the USA will enable you to lets you take advantage of domestic shipping speeds, avoid delays at shipping ports, and cut out manufacturing middlemen that can slow down the production process. In short, buying products made in the USA means there's a lot less working against you!
The benefits of US-made products can go beyond overcoming supply chain challenges and beating inflation. Buying domestic promotional products can help provide social compliance, sustainability, and transparency - all essential qualities that buyers focus on and look for in the brands they support.
Make Your promo swag Buys Low Risk
When trying to figure out what to purchase during inflation, you will want to reduce the risk and choose reliable gifts. That might mean relying on products that worked in the past or choosing items that are always popular. Ultimately, how to shield against inflation comes down to US made products that are sure to work.
choosing the best promo swag made in the usa
Some products - like food and wine, socks, digital or physical gift cards, plants, candles, and blankets - never go out of style because there's helpful and useful. Best of all, they're all available for purchase, customization, and quick shipping from USA-based suppliers. Whether you choose to shop local and support your town's small businesses, or work with Stran to automate your custom swag needs, buying holiday gifts promo products made in the USA is a great way to quickly check off your list!
Here are 6 of our favorite(last-minute!) promotional gift ideas for businesses. All are made in the USA, and are perfect giveaways for this holiday season:
Gourmet Cookies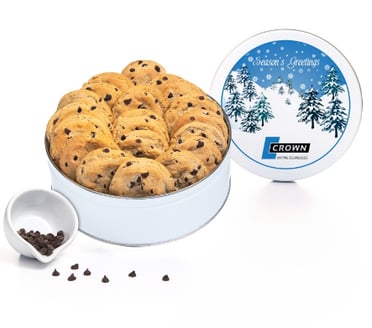 Delight everyone with bestselling cookie tin filled with 18 individually wrapped fresh baked chocolate chip cookies. Full-color digital print on the lid (plus setup) for a stunning and delicious presentation! Cookies are non-melt and have a 3-month shelf life.
Psst: Want more promo product ideas like this? Grab one of our amazing sample packs.
Custom Socks
These socks are made from cotton, grown in the southeast of the United States! For a quick 5-day turn!
Digital or Physical Gift Cards
This is for the super last-minute shopper, digital gift cards can be customized and sent fast! Gift cards are as popular as ever. Unlike traditional gift cards — where the front of the card features the retailer — this reward card can be custom-designed for a brand. Providing immediate delivery, ease-of-use and convenience, eGift Cards resonate with consumers now accustomed to instant gratification!
Plants
This Modern Sprout self-watering herb kit features a vintage-inspired mason jar outfitted with a passive hydroponic system known as "wicking," which brings water and nutrients up to the plant's roots. So whether you forget to water, over water, or both, we've got you covered. This year-round indoor planter comes equipped with everything you'll need to start growing, just add water and set in a sunny window. You don't need a green thumb to be able to enjoy growing and cultivating herbs thanks to this hassle-free kit that can be enjoyed over and over again.
Candles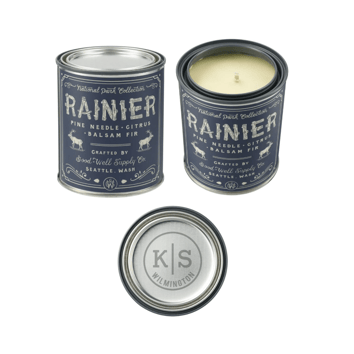 All-natural soy and hand crafted this candle is ethically sourced and produced. It is 100% ecofriendly, 100% recyclable and made in Seattle, WA, USA. Inspired by Rainier National Park the scent is composed of balsam fir needle, balsamic woody crushed pine needles and citrus.
Blankets
The American Giant Campfire Blanket is made with American Giant's signature heavyweight fleece. This all-purpose blanket is soft and durable. Built for use anytime. Made with remnants left over from hoodie production, so nothing goes to waste. Made in the USA.
These items are perfect last minute gifts and dealing with inflation costs for your business. When you purchase the right US-made corporate gift for clients and employees, your budget will go much further. See our Holiday Lookbook for more great ideas!
Note* keep in mind, domestic products can go out of stock or have extended lead times sometimes. Factors like decoration type and method can effect lead times. Have questions? We're here to help! 🎧 Give us a shout!
RELATED BLOG POSTS
Unique Thank You Gifts and Ideas
more ways to connect with stran
👐 Like these updates and insights? Subscribe to our blog.
⭐ Grab a free sample pack, and see how why better custom merch starts with Stran.