News flash: the supply chain is still a mess.
While Bloomberg is (somewhat optimistically) predicting a return to standard freight shipping timeframes in 2023, manufacturers and retailers still feel the effects of delayed or incomplete shipments. Here are a few reasons why:
- congestion: while numbers are decreasing, nearly half of seaports still report significant delays
- higher prices: from the rising cost of fuel to the inflated price of goods, everyone's feeling the pinch
- fewer cargo ships: This should be a good thing. Fewer ships = less congestion....but it also means that you may have to wait longer for a ship to fill and depart from its port of origin.
Wondering what all of this has to do with custom gifts and getting holiday swag fast?
Well, everything. Whether you're a B2B or B2C business, the holiday season is the ideal time to show your employees and clients how much you appreciate them. Many businesses take this opportunity to give custom gifts as a way to express their gratitude in a more personal way.
However, the biggest mistake companies make during the holidays is not ordering their custom gifts early enough. Like fruitcake, supply chain and shipping issues can ruin the holidays if you're not prepared. Luckily, we've got you. Read along to discover our top solutions for every gifting scenario!
First things first: why plan ahead?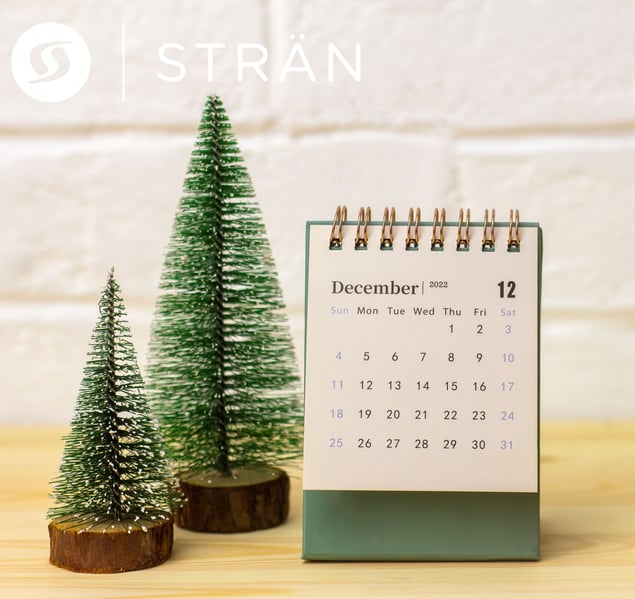 The holidays are an excellent opportunity to pull out the stops and send gifts that express your gratitude and remind your customers or team how much they mean to you - but sending a special gift requires a little bit of planning! Whether your goal is to:
- Launch a holiday promo pop-up store
- Send custom gifts to your employees
- Include custom promo items in swag bags
...the time to start placing those holiday orders is now!
Not sure if you're ready to order? Consult our promo planning checklist.
⭐ Loving these promo industry insights? Subscribe to our blog to stay in the know.
Fast. Custom. Holiday. Swag.
If you've weathered a Q4 or two in the past, you know how hectic it can be to juggle gift-giving alongside all of your other responsibilities - and how far in advance to begin planning. But if you're new to your role or just starting out, knowing how to prepare for holiday gifts - and what to look out for - can help ensure that you're able to deliver a bit of holiday cheer to everyone on your list.
Planning ahead is the key to ensuring a stress-free, swag-filled holiday season---but we can all use a cheat code! Check out some ways that we're keeping it easy to customize and ship holiday gifts in a flash.
⭐ Psst: Let us handle the heavy lifting! We can assemble and distribute your swag anywhere in the US. Learn more here.
Cheat code 1: Launch a Branded Merch Store.
Stocking a custom store with branded swag options is a great way to build excitement and increase engagement with your brand. Whether you're launching a store to:
- Surprising your clients with an appreciation gift
- Sending holiday gifts to your vendors or channel partners
- Thanking your team with a selection of curated apparel or merch
We can help you launch a pop-up store in record time (as little as three days!), stock it with custom items, and take care of distribution and shipping.
Pop-up stores are perfect for: Remote Employee Gifts, Winter Gifts, Christmas Swag, Virtual Gifts, Branded Merch Stores, Corporate Gifting, Client Appreciation Gift, Gift Ideas, Holiday Gift Ideas For Employees, Holiday marketing campaigns, Promotional plans,
⭐ In-stock gifts, right this way --- Customize and ship swag, fast!
Cheat Code 2: Bulk Holiday Gifts


Are you throwing a holiday party or buying for a crowd? Add a special touch to your gifts by customizing them with your logo or an exclusive holiday design. While you might think of bulk swag as a fast and economically-friendly option for tradeshows and events (it is!), there are tons of ways to incorporate it into your gifting plans. From stocking and swag bag stuffers like rechargeable earbuds, Bluetooth speakers, and custom snacks to premium gifts like branded Thule backpacks, plush blankets, and custom Yeti Ramblers, buying bulk swag or promo products is a quick way to check off every gift on your list and cut down on the chances that your gifts will get stuck in transit.
Check out our Holiday Catalog for trending bulk swag items!
Bulk swag is a perfect option for: Holiday party gifts, Giveaways, Events and Tradeshows, Client Appreciation, Corporate Gifts, Holiday gifts for employees, Hybrid Team Gifts, WFH Gifts, Quick Ship Gifts, Swag bag ideas, Promotional Campaigns, Goodie Bags, Event Giveaways
⭐ Learn more about customizing bulk swag with Stran + grab a FREE holiday sample pack!
Cheat Code 3: Custom Holiday Swag Packs
Do you want to hear a secret? We're dreaming of a custom-designed box packed with beautiful custom gifts from our favorite brand. If one of those landed on our doorstep, we'd be over the moon!
Send the same warm-and-fuzzy feelings to your recipients with a custom holiday swag pack--- you'll have them thinking fondly of your brand year-round!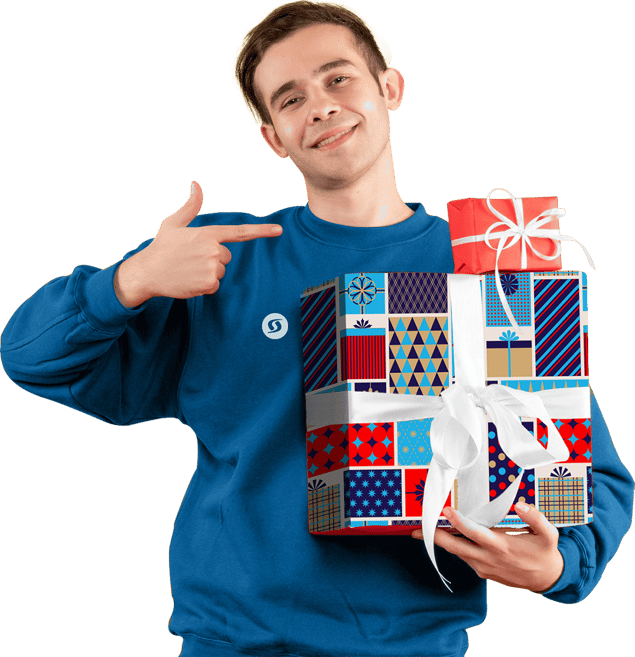 If you're planning a custom pack, There are many directions you can take. Here are a few of our favorite themes:
Holiday gifts for employees and team members:
WHF MVP Pack: Premium gifts, like a North Face pull-over, custom Airpods, or an Ember Mug are a unique way to thank remote employees and hybrid team members for their hard work!
Cozy Custom Pack: Soothe holiday stress with a pack that helps them unwind and enjoy quality time! A warm blanket with your logo, some hot chocolate, and a

Movie or Game Night Pack: Pair a custom popcorn popper with movie-themed treats, a hot chocolate mix, and a pair of fuzzy branded socks for an ideal night in. Or mix it up with activities like a custom puzzle or a customized set of Jenga bricks for a fun twist on game night!
Top holiday gift ideas for clients and channel partners:
Custom Socks and Swag Pack: a custom mailer bag, a pair of Sock Club's premium wool socks, holiday chocolates, and custom stickers are all you need to send a sweet and simple token of appreciation!
Mixology Pack: Customize a pair of rocks glasses or copper mugs, and add granite coasters, cocktail mixers, and a bottle of their favorite spirit for a premium gift and activity in one!
No matter what gifts you choose for your custom holiday pack, remember to include a personalized insert card or custom greeting card that expresses your gratitude! This small, thoughtful touch will elevate any gift and create a meaningful connection with your customer or team member.
Swag packs are perfect for: Corporate Holiday Gift Ideas, Custom Gifts for Employees, New Hire packs, Employee Appreciation, Premium Gift Ideas, Trending Holiday Gfits, Unique Gifts, Holiday Marketing Campaigns, Promotional Campaigns
BONUS: HOLIDAY SWAG PACK INSPIRATION
Need a few ideas to round out a promo pack or swag bag, or looking for inspiration for creating the ultimate customer appreciation gift? Look no further! This curated pack is just one example of how holiday promo items can be mixed and matched to build a swag pack that will make your recipients' holidays brighter while keeping your brand top of mind! If you like our exclusive winter wonderland design, ask how our designers can help you create custom holiday designs for your swag!
⭐THE WINTER WONDERLAND PACK ⭐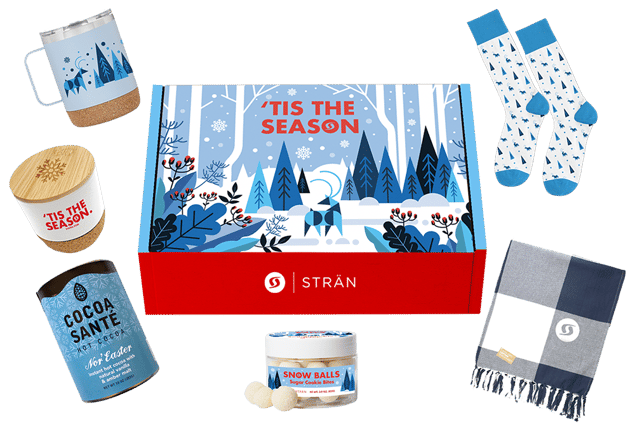 Start the season right with our cozy Winter Wonderland pack! This fun swag assortment is a Stran exclusive filled with soft and sweet holiday swag gifts. Want to customize a pack like this? Give us a shout and ask for these items:
❄️ Custom socks from our friends at Sock Club
❄️ Candy bites with a custom label
❄️ Throw blanket with embroidered logo
❄️ Custom travel tumbler with a cork bottom
❄️ Small-batch hot chocolate
❄️ Holiday custom mailer box (inside and outside print)
❄️ Colorful protective crinkle
❄️ customizable greeting card or insert card
As always, you can swap in other top holiday gifts from our lookbook or catalog to create your ultimate swag gift.
our final thoughts on holiday swag planning
At Stran, we have nearly 28 years of experience strategizing and executing custom promotional programs for companies of every size. From end-to-end swag programs to quick-turn pop-up stores for holiday swag gift orders, we're committed to helping make the holidays a little brighter for you, your team, and your clients.
LOOKING FOR MORE holiday swag ideas?
🎄 Subscribe to our blog to get the first look at our holiday catalog + future gift guides!
⭐ Grab a free sample pack, and get inspired with top holiday gift ideas.
🎧 Our branding experts are standing by to answer your swag questions! Give us a shout.
RELATED BLOG POSTS
Incorporating Custom Swag In Your Marketing Strategy
Best Swag Ideas for In-Person Teams
Best Swag ideas For Hybrid Teams