Marketers and brand managers, listen up: there's never been a better time to launch a custom merch store. In an age when logo creation is as easy as visiting Canva or 99 Designs, and globally accessible platforms like TikTok, Twitter, and LinkedIn make becoming a content creator or insta-influencer is as easy as tapping a few keys, custom merch stores are the fastest way to build brand awareness and connect with your target audience.
From Paris Hilton's "playfully, timeless, luxurious, and inviting" lifestyle merch to Nintendo's wildly popular line of exclusive, gaming-inspired promo products, brands of all sizes are turning to custom merch and online stores to quickly build brand awareness and increase exposure. If you're wondering if launching a custom merch store is the right move, we can help!
Whether your goal is to amplify your brand, create a buzz around a specific product launch, or build an exclusive digital storefront for employees or clients, our how-to guide provides you with everything you need to start. And if you still have questions at the end, we've got you! We've been designing and managing e-company and custom merch stores for over 25 years, and we'd love to help you launch your own branded merch online.
Read on to learn how easy it is to create a custom merch store - from choosing the ideal branded company products, to launch, and beyond!
Psst: Can't wait? Snag our pre-launch checklist.
What Is a Custom Merch Store?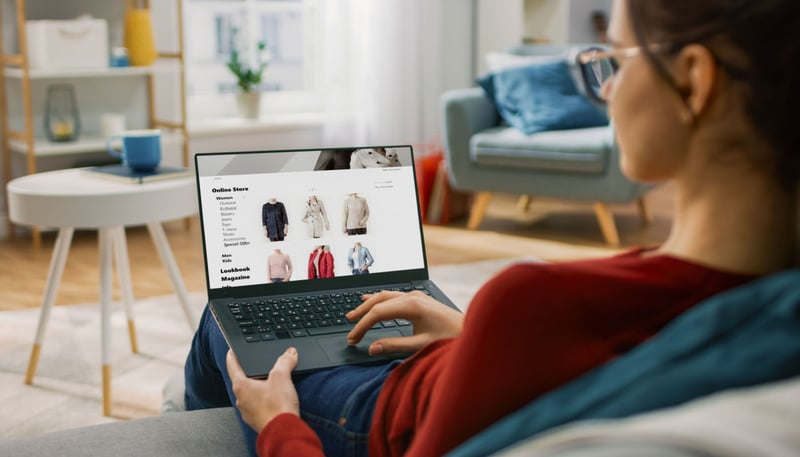 Simply put, a custom merch store is an e-commerce site where visitors can select and buy merchandise and have it shipped directly to them. From small businesses to large corporations, merch stores offer an additional revenue stream that supports marketing goals by featuring custom versions of popular items.
However you refer to it, custom merch is a vehicle for building brand awareness. While historically a popular method for socializing brand campaigns -think the Budweiser Frogs, The Six Flags Guy, Nyan Cat - custom merch has evolved past tee shirts, pins, or stickers (although those are great, too!) given away at events to encompass a variety of premium, often hyper-customized products that help a brand connect deeply with their target audience while differentiating them from similar businesses.
Why Start A Custom Merch Store
Custom merch stores are a quick win for brands because they're simple to set up, give the brand complete control over product selection and customization, and often support integrations that automate the warehousing and distribution process ---because no one wants to be packing swag at their kitchen table.
There are many benefits to starting a custom merch store, including the relative ease of use, the low overhead costs, opportunities to showcase your brand, and additional revenue stream.
Here are some other ways that starting a custom merch store can benefit your business:
Showcase your brand: A custom merch store is a great way to build awareness while showing off your brand's creative side. Want to get fancy? Build excitement with limited-edition launches, or consider pursuing partnerships with other brands that overlap with your target audience.
Increase brand exposure: Custom merch stores help you reach more customers, faster and create an engagement cycle that's more powerful (and harder to replicate) than an in-store purchase.
Generate more marketing opportunities: Custom merchandise builds brand awareness, can support specific advertising campaigns(think seasonal launches and rebrands!), and helps your brand identity resonate with more people.
💡Merch Alert! Check out Wahlburgers' custom merch store, built by Stran.
For Corporate Marketing: Employee Recognition, e-Company Store, B2C Custom Merch store
For Small Businesses and Brands: B2C Custom Merch Store, Limited-Edition Swag Drops, Curated Collections, Brand Partnerships
For Influencers and Social Media Marketers: Branded Merch Store, Brand Partnerships, Project Launches, Product Launches
How to Start a Custom Merch Store
Step 1: Choose an e-commerce platform. Decide what site or integration is best for staging your merch store. You'll want to be sure that your chosen platform can be customized to align with your brand aesthetic, is user-friendly, and integrates easily within your larger site framework.
Here are a few options:
Amazon - a great option for brands that want to launch quickly with minimal site customization, with built-in promotional tools to help all sellers build revenue! Sellers can choose their fulfillment options for each product.
Shopify: - an e-commerce integration that's simple to set up, with powerful customization features that allow you to create a custom merch site that truly reflects your brand. As with most e-commerce integrations, you'll need to weigh the pros and cons of paying Shopify for warehousing and fulfillment vs integrating with an existing site and fulfillment strategy.
Stran: - Stran e-company stores, pop-up stores, and custom merch programs are truly a one-stop shop, with product sourcing, warehousing, and fulfillment handled by our branding experts. Our full-service custom merch program scales with you and is backed by 27 years of industry experience and relationships. Choose your favorite products from our curated selection of trusted brands, enjoy small print runs, and leave the management to us!
💡 Learn more about B2B company stores and merch stores.
Spring: Geared toward social media influencers, artists and content creators, Spring is a great option for brands with small minimum orders and/or who don't want to deal with warehousing and fulfillment. Their stores integrate easily with social platforms to help drive more traffic to your branded merch site.
Step 2: Select your products and design (AKA, the fun part!). More on this below.
Step 3: 🚀 Launch and market your store! Once you have everything set up, it's time for liftoff! You can do prepare for this by promoting your launch on social media and scheduling an email campaign to generate maximum buzz! One of the easiest ways to get people interested in your products is to offer them a discount code or free shipping on their first purchase, hosting a giveaway where a certain amount of customers receive a free custom gift, or raffling off a gift code on social media!
How to Pick the Right Products for Your Custom Merch Store
Real talk: with so many custom product options out there, it can be overwhelming to know where to start! There are thousands of promo product manufacturers in the US alone, and untold numbers distributors to choose from. In addition, household brands like Apple, Fellow, and Nike are capitalizing on the trend to customize and personalize the products their flagship products.
Figuring out which products work best for your brand requires a bit of research. If you want to be confident that you're setting your custom merch store up for success, here are a few places to start:
Prioritize product quality. The items you offer in your company merch store reflect your brand and should represent it well. Premium swag like Miir and Yeti insulated tumblers, Apple products, etc., premium apparel and accessory items from Thule, Marine Layer, The North Face, and other recognizable labels can elevate your branding by association.
Not feeling the brand names, or just want to go in a different direction? There are plenty of private-label, high-quality swag options for you to explore when you work with a promotional products supplier! Companies like Stran have years of experience in the promo products industry, and you will benefit from their long-standing relationships with manufacturers and decorators.
💡Psst: Having trouble narrowing down options? Ask for a product sample! This will help you ensure that the items you choose are comfortable/easy-to-use, durable, and high-quality so your customers will want to use them all the time!
Choose a swag vendor that aligns with your corporate values.
Like product quality, a branded product's story can impact your brand is perceived. Many retail brands and wholesale promo product suppliers participate in "give-back" programs (transaction-based partnerships with non-profit organizations) as a way to offset their carbon footprint. For example, Stran prioritizes relationships with suppliers that commit to sustainable manufacturing practices, and has strong relationships with many USA-made, BIPOC-owned, women-owned, and LGBTQIA+ promo businesses.
Psst: Using the product description fields on your merch site to highlight how your custom products align with your corporate values is an effective marketing tactic that can increase positive associations with your brand.
Consider your niche and brand identity. Everyone can find a use for custom water bottles, but most companies and charities are handing those out at every event --- so they might not be popular sellers in your merch store! Choose a premium option if you're committed to offering a reusable water bottle. Consider adding an exclusive or limited-run custom design to help it stand out in a sea of giveaways.
Checklist For Launching Your Custom Merch Store
✅ Choose an e-commerce platform. Stran offers an all-in-one solution for corporations that includes shipping, warehousing, and fulfillment options!
✅ Choose custom promo items to showcase your brand
✅ Create a custom design for your merch curation
✅ Promote your custom merch store! A robust advertising campaign with email and social media elements will help you build a pipeline of interested, potential customers.
✅ Launch your custom merch store.
✅ Continue to market and advertise your store! Advertising limited-edition merch drops, offering loyalty incentives, and announcing shop updates via email or social media are all great ways to keep your audience engaged and build your customer base.
Our Final Thoughts On How To Start a Custom Merch Store
Setting branded merch store can seem overwhelming at first. Follow these simple steps and tap into more ways to connect with your target audience and build more revenue for your brand!
more ways to connect with stran
⭐ Subscribe to our blog for more industry insights, custom merch inspo, and product launches!
⭐ Grab a free sample pack, and see how we're imagining company swag differently.
🎧 Questions? Project Ideas? Give us a shout!
RELATED BLOG POSTS
Incorporating Custom Swag In Your Marketing Strategy
Best Swag Ideas for In-Person Teams