🎶Oh my gosh, they're back again 🎶 - the holidays, that is.
If you're in our neck of the woods, the leaves are just starting to turn. The Boston Red Sox are still swinging for the outfield, and everyone is spending their weekends with an apple cider donut in one hand and a PSL in the other. And everyone at Stran - and in the promo industry - is hard at work planning for the 2022 holiday promo season. We've spent the last 28 years helping customers and companies of all sizes make the holidays a little merrier for their clients and teams. Whether it's your first year making holiday swag decisions or you're a seasoned pro, we've got you! Scroll through for our exclusive, insider tips on how to plan ahead for a stress-free, swag-filled holiday season.
why plan ahead?
Planning ahead for your holiday swag is crucial to ensuring that your custom gifts ready to be delivered by the holidays. Whether you're planning to:
- Launch a holiday promo pop-up store
- Say thank you to your clients
- Send custom gifts to your employees
- Include custom promo items in swag bags
...the time to start placing those holiday orders is now!
One of the biggest mistakes we see with companies is not allowing enough time to design, create, and order their custom holiday items in time for seasonal delivery. With the global supply chain still in a tangle and shipping delays a post-Covid reality, it's crucial that branded holiday orders are ordered as soon as possible! A good rule of thumb for most companies is to start in September and budget ten weeks for swag planning.
⭐ Loving these promo industry insights? Subscribe to our blog to stay in-the-know.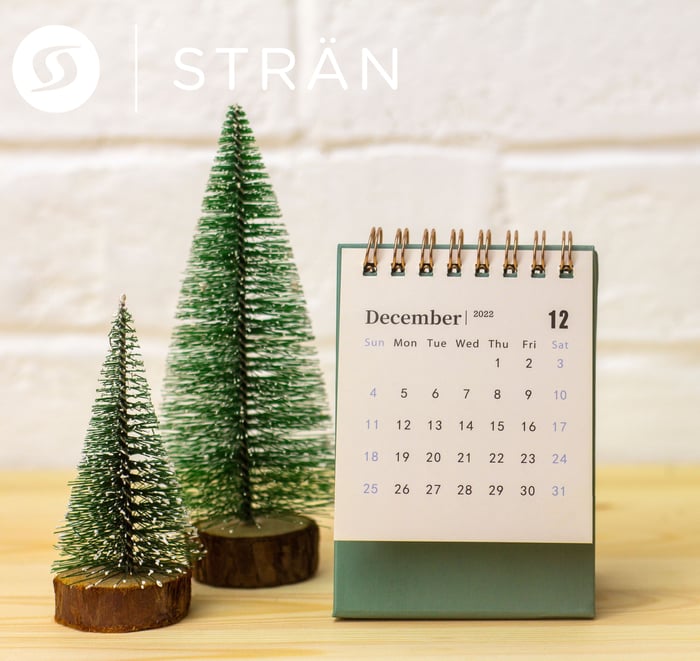 A Sample schedule for holiday swag planning

Weeks 1-2: Rally the troops! Pull your internal teams together to finalize your custom design and marketing communications.
Week 3: Give us a ring! Get in touch with a Stran branding specialist to chat through your plans. check stock levels for your favorite promo items, and confirm your holiday swag selections. Our team has years of industry experience and can help you source and customize almost any product you can imagine!
Week 4: Finalize your order! Most suppliers have a 3-week lead time for orders, plus shipping to get the products to your swag vendor. This timeframe is often extended during the holiday season, and many swag suppliers will institute order cutoffs to ensure that they can fulfill their orders in time for the holidays.
⭐ Not sure if you're ready to order? Consult our promo planning checklist! ⭐
Week 5-8: Plan, plan, plan! Remember, most suppliers will need at least 3 weeks to manufacture and customize your company swag! Use this downtime to gather shipping addresses (our team loves using Typeform to create custom forms for this), or send RSVPs for events that will incorporate your holiday swag boxes.
Weeks 9-10: Send out that swag! Will you be drop-shipping swag to your recipients? Stocking a custom store with branded swag options for them to choose from? Adding your holiday promo items to a custom swag bag or custom mailer box as event giveaways? Now is the time to get that swag in the mail.
⭐ Psst: If you're storing swag on-site for an event, make sure you build in some time to assemble and distribute or ship your swag! Of course, if you're working with Stran, the heavy lifting is taken care of! We can kit and ship your branded holiday gifts anywhere in the US. Learn more here.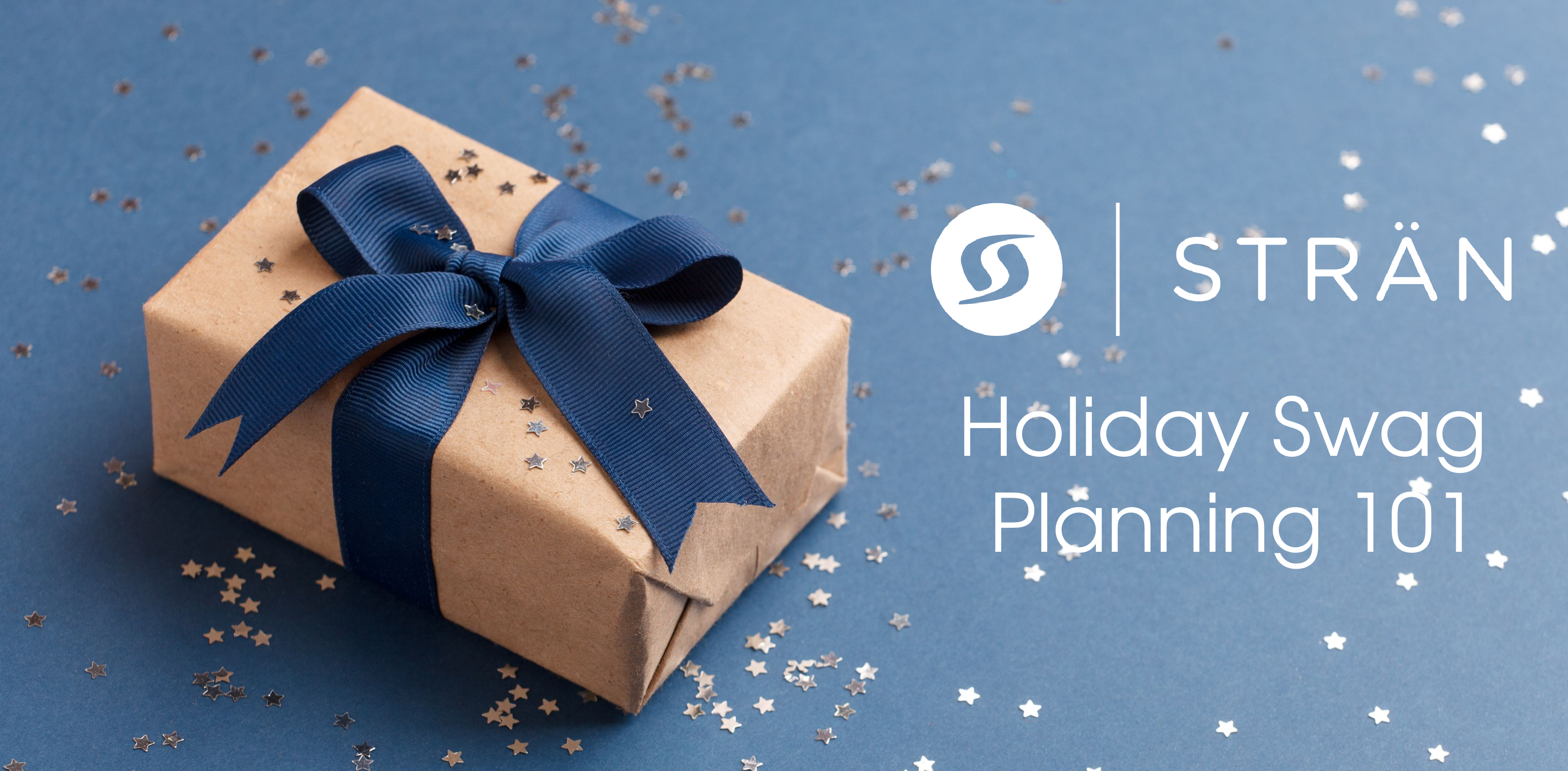 holiday swag planning 101
Start early! We cover this above, but can't stress it enough - the holidays are prime time for B2B and B2C sales. Everyone, from your next-door neighbor to the biggest retailers in the industry, is busy shopping for (or shipping) holiday gifts and Christmas presents that will make someone's season a little brighter. All of that ordering means that shipping carriers will be really busy - and busy carriers mean delays and holiday cutoffs. Minimize inconveniences like these by ordering your swag early and having a delivery strategy in mind.
Design a custom holiday version of your brand. While you can definitely add your logo to any promo product, the holidays are the perfect reason pull out all of the stops and make your branding really shine! We've revamped our sample packs for the holidays with an exclusive design and special products that we won't send any other time of the year.
Why not take the same approach with your brand? Custom holiday brand designs don't have to be labor-intensive, but they should reflect your brand's tone and incorporate your logo in a seasonally-appropriate way. Wondering where to start? Here are a few suggestions:
Create an unboxing experience by designing a custom holiday mailer box to hold your branded holiday gifts. Tuck a personalized greeting card with your holiday wishes inside for a perfect present!
Choose a theme for your branded holiday gifts. If you're sending one special item, consider selecting a more premium item that's useful and represents the season. Perhaps a custom Yeti tumbler, a plush North Face pullover, or a hot cocoa kit are right for your recipients.
Planning a holiday swag pack? There are so many themes to choose from! You can create a tech pack for your WFH employees with over-ear headphones, a blanket, and a Yeti mug, or a warm and cozy thank-you pack for your clients that includes an engraved pair of glasses, a cocktail set, and granite coasters. Feeling more traditional? Many promo suppliers can connect you with suppliers that can send custom bottles of wine, fruit and nut baskets, or special holiday treats.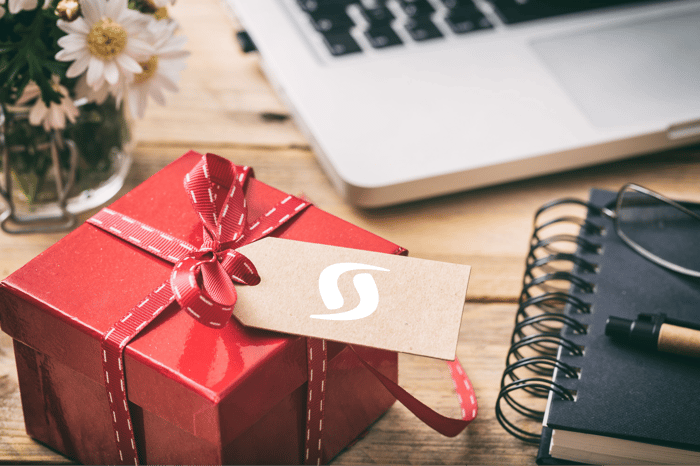 Add special touches. Think about the last gift you received. What made it special? Was it well-packaged? Did the unboxing experience blow you away? Was the item useful and durable? Have you reached for that fit again and again? If you've answered yes to any of these questions, channel that feeling into the holiday promo items you select for your recipients. Your branded holiday gifts don't have to break the bank, but should be thoughtful, meaningful, and relevant to your audience!
Plan for delays by having a shipping/distribution strategy in place. Sometimes, no matter how well you plan or how early you order, circumstances outside of your control will delay your swag. While it's not ideal, there are ways to soften the blow and ensure that your recipients still feel special and appreciated.
If your shipped swag will be delayed or you're hosting an in-person event with holiday giveaways and won't have swag on hand, consider a handwritten note expressing your thanks and listing an anticipated delivery date for your recipient's special holiday swag. If it's in your budget, this note could even be paired with a nice bottle of wine or a holiday box of chocolates for a sweet gift that keeps your recipient's experience front and center.
Presentation matters. Branded holiday gifts are a nice touch, and how you're giving them matters as much - maybe even more than! - the gift itself. As you're thinking through your client appreciation gifts, corporate gifts, or even employee holiday swag boxes, it's a great idea to consider how each recipient will receive their presents. If you're keeping logistics simple, level up your presentation with special product touches. Perhaps you splurge for the Ember self-heating coffee mug or tumbler vs. the generic brand. Or maybe you add foil or multi-color imprints to your swag selections! For some companies, a great presentation is as simple as a crisp design, smart packaging, and one simple, premium gift that expresses their thanks.
Planning an event? We've got some great ideas for pairing holiday swag and soirees in the next section.
⭐ Psst: Need holiday swag ideas? ⭐
holiday swag planning bonus! 3 ways to celebrate with custom holiday swag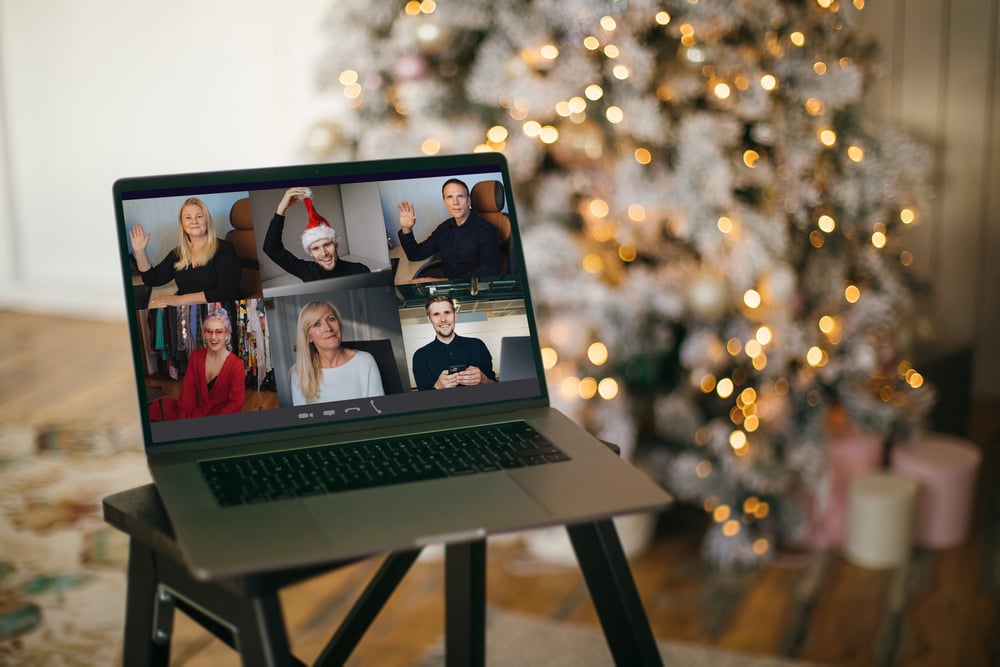 💡Holiday Event Idea For Employers:
Virtual Cocktails – This one is super-easy! Collect your recipients' beverage preferences and addresses and send them each a bottle of something nice (alcoholic or not!) + a custom cocktail kit and an insert card instructing them not to open their package until your event date! Then, host a trivia session or casual chit-chat on Zoom or Teams - preferably during work hours, if you're planning a company event! - for a nice break from the normal routine!
💡Holiday Event Idea For Marketers:
Throw a Party - Custom holiday swag with your brand on it can help you stand out in the crowd at any holiday party or event. Work with your favorite graphic designer to create custom labels and add them to items like tins of nuts, bottles of wine, candles, and more. Your recipients will love the unique, custom touches you've added to the party space, and you'll be building brand awareness in the process.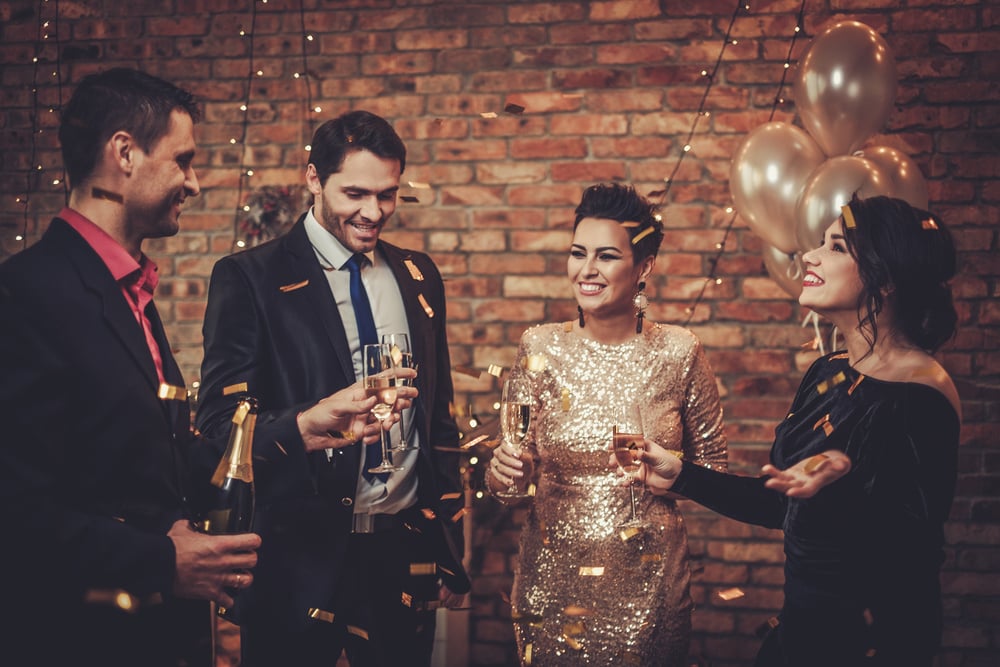 💡Holiday Event Idea For Retailers and NGOs:
Host a Happy Hour + Games – To really make your customers feel special this season, host a happy hour + game night at your location! If you have the space, customize lawn games like corn hole or Giant Jenga to create activity stations. Then crank the tunes, set out some snacks and beverages, and get the party started. Be sure to hand out holiday swag bags filled with branded promo items to help your recipients get into the party spirit!
our final thoughts on holiday swag planning
The key to successful gifting starts with smart holiday swag planning. We recommend starting early to have swag in hand for your event or occasion - and have the best chance of avoiding delivery delays. At Stran, we have nearly 28 years of experience creating, supporting, and fulfilling custom holiday swag programs for companies of every size. Got swag questions, or want to place an order? Give us a shout!
LOOKING FOR MORE holiday swag ideas?
🎄 Subscribe to our blog to get the first look at our holiday swag catalog + future holiday drops!
⭐ Grab a free sample pack, and see how we're doing holiday swag differently.
RELATED BLOG POSTS
Incorporating Custom Swag In Your Marketing Strategy
Best Swag Ideas for In-Person Teams
Best Swag ideas For Hybrid Teams