And just like that...December is coming to a close! 2022 has been a year of incredible growth and innovation for Stran, and while it seemed to go by in the blink of an eye, our team has been working hard behind the scenes to help our customers build better connections and brand awareness with premium swag.
Now, if you're thinking of swag as "Stuff We All Get" (aka, stuff we all donate), you're not alone - swag gets a bad rap! We're on a mission to change that by helping our customers invest in their brands and create thoughtful, reusable products that their recipients will reach for day after day.
So how do we do it? Scroll along as we take a look back at some of our proudest moments:


#8
Helping our Neighbors
This November, we launched a new volunteer initiative, STRAN - Start Transforming Right Around (your) Neighborhood, or STRAN (see what we did there? 😜).As a publicly-traded industry leader in promo product management, we know that we have the visibility and recognition to make a difference in our own backyard. This year, we are proud to have helped two amazing local organizations: Interfaith Social Services and the Quincy Family Resource Center. We had a blast helping to stock Interfaith's food pantry, as well as making helping the resource center make the holidays a little brighter for children in Quincy, MA!
The STRAN program leverages the time and talents of our incredible Stran family to give back locally! Most recently, our team volunteered at Interfaith Social Services, located around the corner from our Headquarters in Quincy, MA. Members of the Stran family volunteered for shifts helping to stock Interfaith's food pantry, which serves thousands of families each year.
Visit our blog for more info and pictures of our crew in action!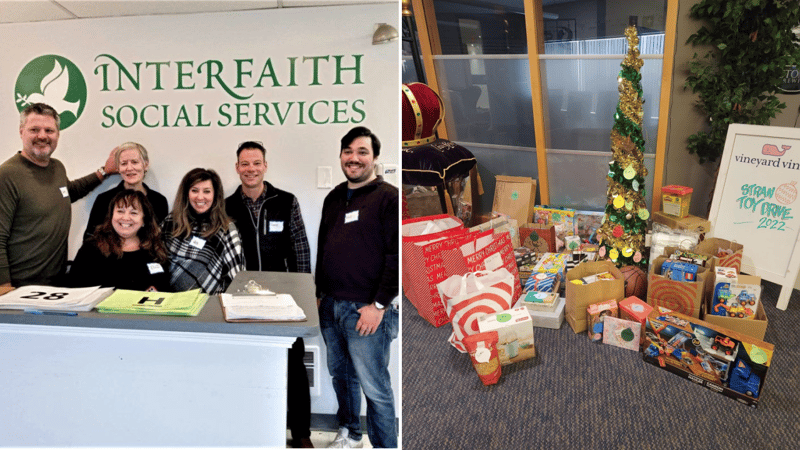 Promo Marketing is the leading source of product and marketing information for distributor sales professionals, and we are thrilled to have been chosen as one of their 2022 top distributors!
#6 Open House 2022
Our annual Open House is an industry event in its own right! The highlight of our Fall season and the product of months of hard work and elbow grease, the Open House brings our crew, customers, and supplier partners together for an evening of networking and fun at our Quincy, MA headquarters.
While COVID kept us apart for the past two years, it couldn't keep us down! Our 2022 event, Wolf of Wall Street, celebrated the first anniversary of our NASDAQ listing and came complete with a mechanical bull and selfie station: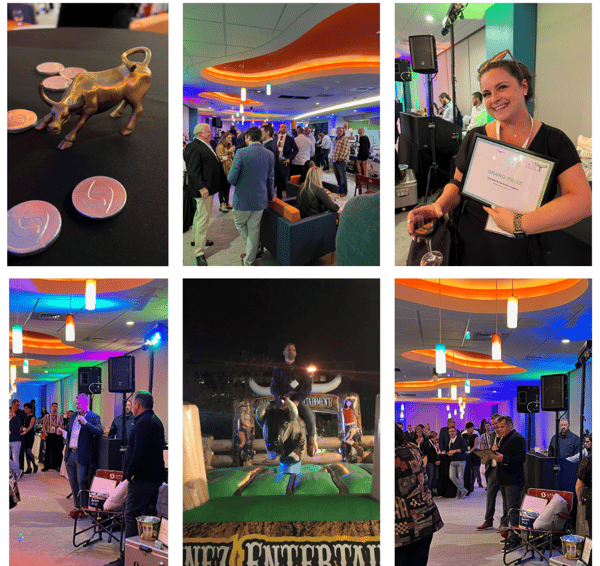 #5 Stran named Distributor of the Year by New England Promotional Products (NEPPA)
In April 2022, Stran received the Distributor of the Year award from the New England Promotional Products Association, which recognize the outstanding achievements of NEPPA members throughout the year.
#4 Gap Promo and Trend join the Stran Family
We are excited that Trend Brand Solutions and Gap Promo joined our Stran family in 2022! We are ecstatic to add the experience and talent that both teams bring to Stran and help to fuel our continued growth!
In November 2022, our CEO was named one of ASI's 2022 Most Influential Professionals in the Promo Industry. We're thrilled by this honor, and so proud of Andy and our leadership team for their contributions to the industry!
Read the press release here.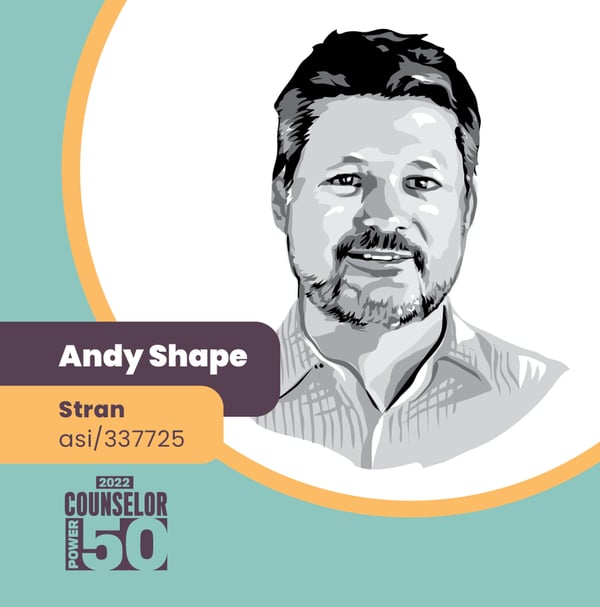 #2 Our team members made a big impact!
Jessica, Nathan O' Neill, Nathan Williams, Sara, and Anthony were recognized by SAAGNY as being in the top 40 under 40 this year!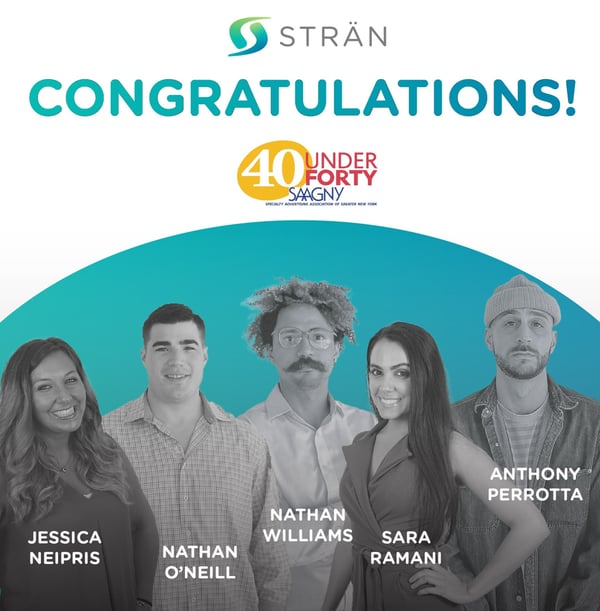 Rachel Levin, SAAGNY President and Director of Strategic Accounts for Stran, joins the Marketing Joy podcast:
Senior Director of Sales Nate O'Neill was named a finalist for ASI Media's 2022 Salesperson of the Year:
#1 STRN is SWAG
In November 2021, Stran debuted on the global stock market, and began trading on NASDAQ under the symbol STRN. While we're partial to our company name 😏, it was time for a refresh! In December 2022, we updated our ticker symbol to SWAG to better reflect who we are and what we do.
Stran IS Swag -- from design to delivery, and every step in between! -- and our new ticker symbol aligns our passion for creating incredible swag and our commitment to providing exceptional and comprehensive promotional product management.
View the press release here.
Conclusion
As we put the finishing touches on some premium client appreciation gifts for our (very long!) nice list, we want to extend the biggest thank you to our team.
We're grateful to every member of the #StranFam for their talents and contributions. From helping to launch new brands, to building client relationships, to being recognized as leaders in our industry, our amazing team has worked tirelessly to help our customers create and distribute better custom products.
We wish them, and you, warm and safe holidays, and the happiest New Year!
⭐ Bonus content: TRADESHOW + EVENT RECAP
Meeting with customers and industry peers and partners face-to-face is one of our favorite parts of the job! In 2022 we attended, presented, and contributed to nearly 20 major events across the country, including:

| | |
| --- | --- |
| NEPPA Fall 2022 | DoItBest Fall 2022 |
| | |
(Our CEO takes the stage!)
Natural Products Expo
Stran Boston Harbor Outing
⭐ National Beer Wholesalers Association (NBWA) ⭐
2022 Women of the Vine & Spirits Luncheon
Do It Best Fall Show 2022
Molson Coors Beverage Company Holiday Lunch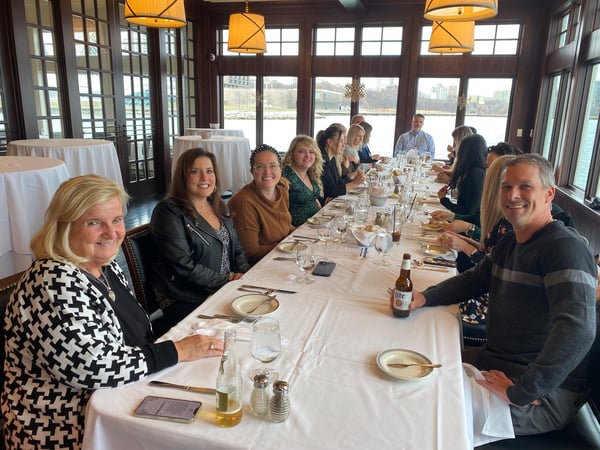 MORE WAYS TO CONNECT WITH STRAN
⭐ Subscribe to our blog to stay up to date on the latest industry news, trends, and promo inspiration!
⭐ Grab a free sample pack, and see how we imagine company swag differently.
🎧 Questions? Project ideas? Give us a shout!
RELATED BLOG POSTS
How to Promote a New Year's Event For Your Restaurant or Bar
How Swag Can Boost Company Culture